Real Log Homes does not construct the home but many of our Independent Representatives are builders and you may choose to work with one of them or hire your own. No matter who you choose as your builder, they are sure to appreciate the extensive pre-cutting Real Log Homes is known to provide. By minimizing the amount of on-site cutting required, your home will be weather tight and sealed from the elements quickly. Our logs are numbered and lettered, and our packages come with a comprehensive construction manual and log layout sheets that detail the position of each individual log so your home goes together quickly, easily and precisely.

Precision manufacturing and our joinery system create a comfortable and more weather-tight log home for you. Our baffle and channel system allows the logs to be stacked and fastened uniformly. To ensure that windows and doors are vertically aligned with the logs, two PVC Lockspline™ connecting strips and foam gasket are installed at all butt joints, corners, window frames and door frames to create positive seals, even as the building settles.
LESS WASTE - BETTER FOR OUR ENVIRONMENT & YOUR WALLET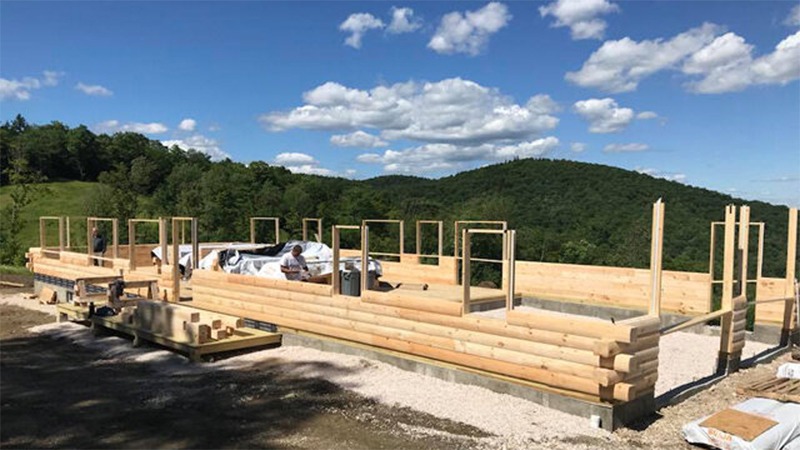 The extensive pre-cutting of our log packages means less cutting at your house site. Consequently, much of the scraps and waste take place at our plant, making your job site safer and cleaner. Equally important, less waste means your log home package is more cost-effective. With a Real Log Homes brand log package, you pay for the log lengths actually used in the construction of your home, not for numerous trimmed off ends or pieces that wind up in your scrap pile. 
To learn more about the Construction process contact your Independent Representative today, or contact Real Log Homes directly.