Precision and Attention to Detail!
Our attention to detail during the manufacturing process is what makes a Real Log Homes® brand log home more economical to build, more comfortable to live in, and more satisfying to own. We have set the highest standard in the industry for extensive precision pre-cutting, which means less waste on site and tighter fitting logs.
Extensive Pre-cutting for Less Wasted Time, Material & Money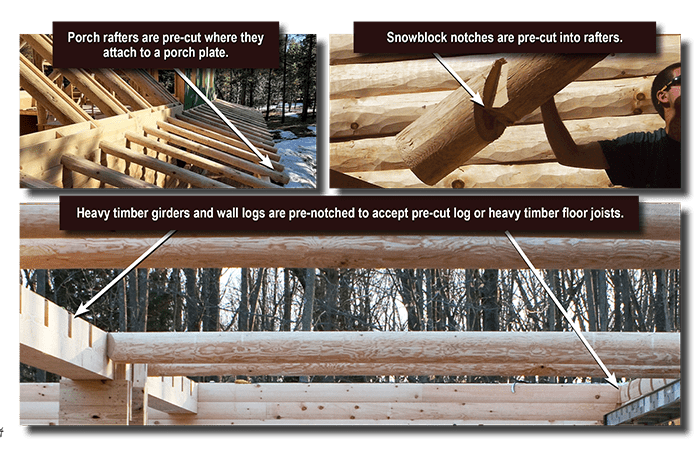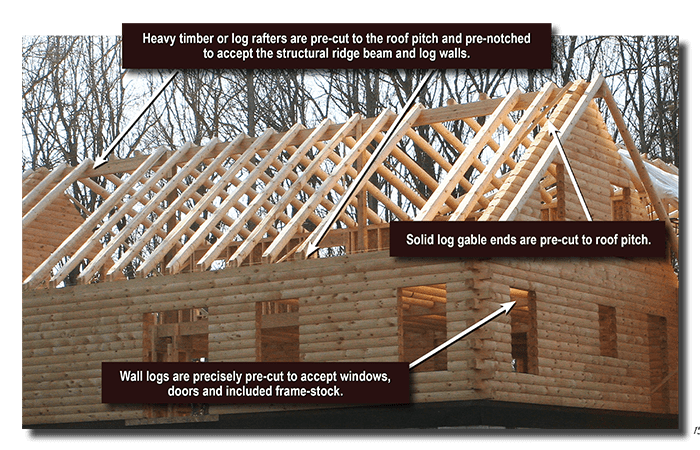 Our packages arrive ready for assembly, saving time and reducing the risk of costly mistakes from extensive on-site cutting. We pre-cut all corners, butt joints, window and door openings, and gables to roof pitch. Floor and ceiling joists are pre-cut and notched as are the heavy timber girders. Rafters are also pre-cut to the pitch of the roof. Even frame stock is supplied custom pre-cut to accommodate windows and doors to help ensure a weather-tight fit.*
*Note: Although most materials are pre-cut there may be circumstances where minor on-site cutting or trimming may be required.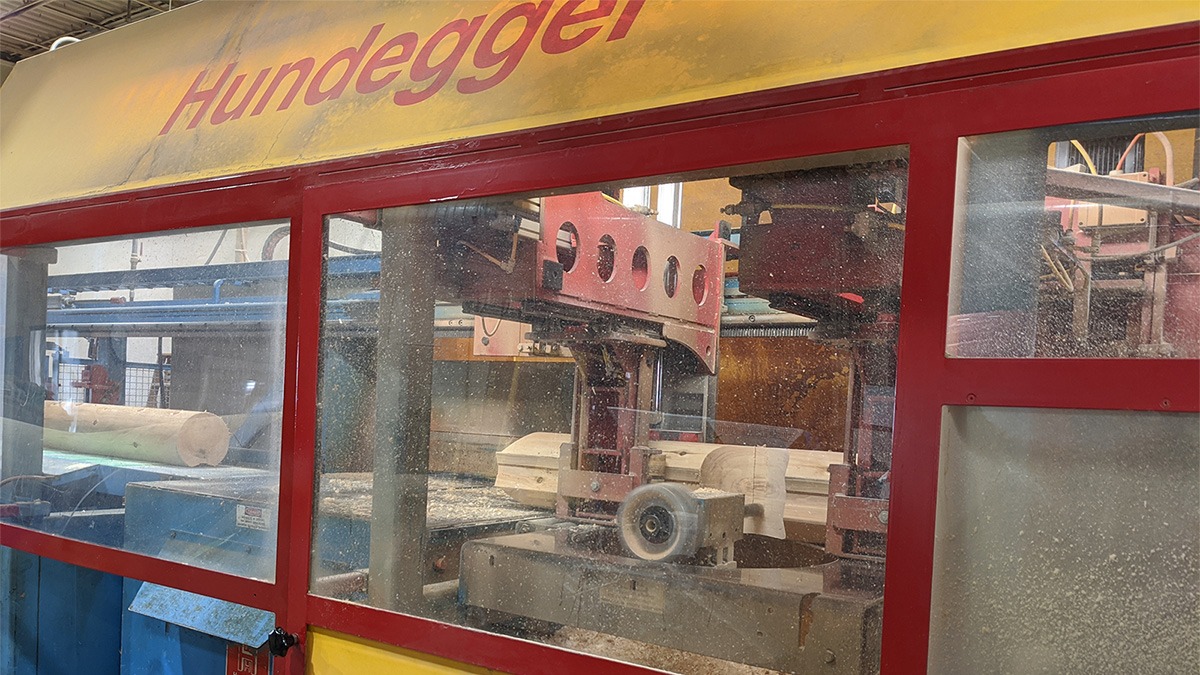 We are one of the few log home companies to use a state-of-the art computer controlled, precision cutting machine called the Hundegger. With this technology we are able to provide the saddle notch corner for our Swedish Cope profile, the dovetail corners for our V-Groove and Classic Appalachian profiles and the timber floor joist girder along with any additional timbers desired in the your log home.
INTERLOCK JOINERY SYSTEM
Our InterLock™ Joinery System has been engineered so the major components act in union, allowing for natural, subtle settling inherent in all log home construction. All log profiles, except Swedish Cope, feature our Interlock™ Joinery System, designed exclusively for Real Log Homes®. Swedish Cope corner styles combine precision pre-cutting with PVC Lockspline™, Norton Foam, and other effective materials to assure a precise fit.
The following materials are provided with our Interlock™ Joinery System:
PVC Lockspline™ at all window and door openings, corners, and butt joints
FastenMaster OlyLog® or LogHog® fasteners
Log Home Foam™ V790 Gasket
Special milled framestock, pre-cut for accommodation around windows and doors that provides the connection to the ends of the logs at the openings
Pre-Cut Interlock Corner
Sashco® Log Builder caulk
Foam blocks and preinstalled corrugated fasteners to seal the baffle and channel at the corner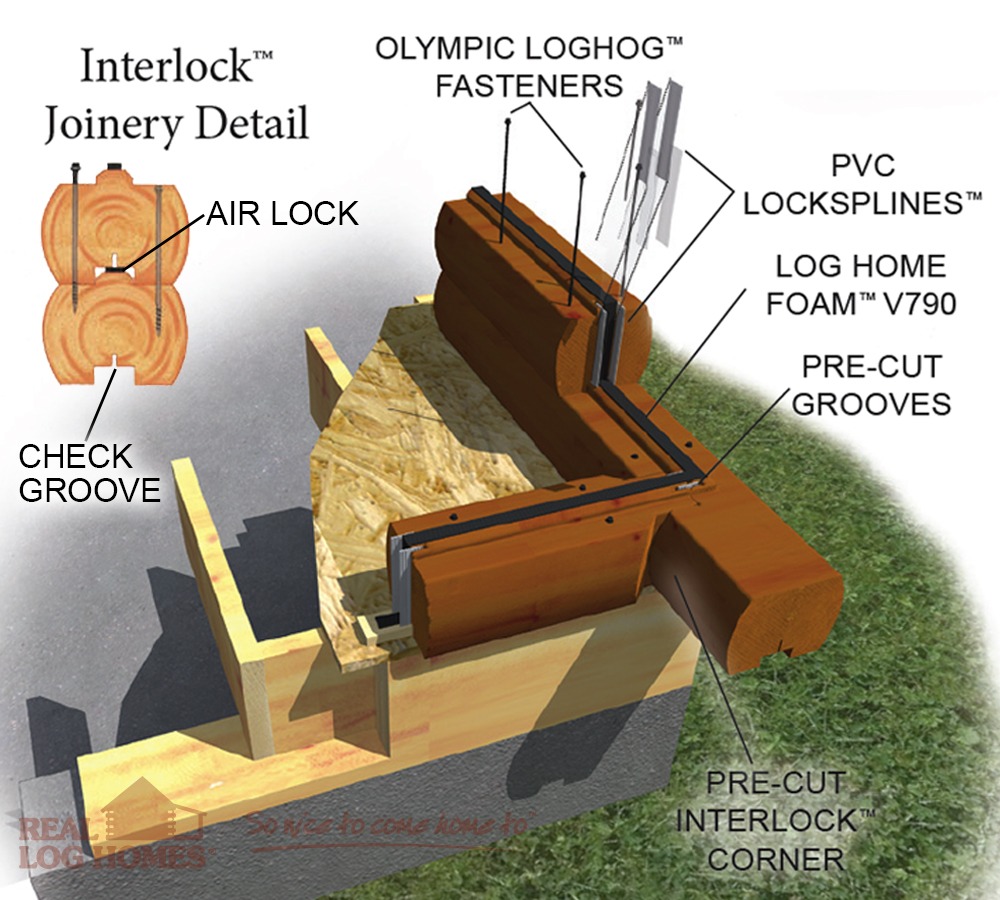 To create a more weatherproof and draft-free home, this system includes our single baffle-and-channel log design with its large 2-inch-wide tongue.
Our proven, single tongue-and-groove design is part of the Real Log Homes Interlock™ Joinery System, which continues to keep thousands of Real Log Homes weather-tight and draft-free.
In log home construction, the size of the tongue and groove (or baffle and channel) of each log is a vital part of any tongue-and-groove log joinery system - the system that keeps weather out and comfort in. To be effective over the lifetime of your home, the tongue-and-groove should be part of a system, not heavily reliant on caulking or other material that can be compromised over time by the elements.
A common fallacy about tongue-and-groove joinery is that if one tongue is good, two must be better. When properly designed, a single tongue-and-groove system has several advantages. The Real Log Homes single tongue-and-groove design, one of the largest in the industry at two inches wide and 3/4" tall, allows room for a larger gasket. That means superior protection from the elements. Because there is only one tongue, it also means more room for safe fastening on the surface of each log. Our larger, single tongue also reduces its risk of damage during shipment and construction.
In a double tongue-and-groove system, each tongue must be smaller so that the log surface can accommodate two tongues rather than one, while providing adequate area for fastening. Smaller tongues result in the use of smaller gaskets and/or beads of caulk. We have found the combination of smaller components can create greater risk of water finding its way past the first smaller tongue and then becoming trapped between the two, risking deterioration and/ or mildew.
The Real Log Homes single tongue and groove system eliminates the possibility of water being trapped within the logs' joinery system. Our system works by allowing a specially formulated foam gasket to be compressed within a predetermined tolerance for a tighter fit. In combination with the gasket, an "air-lock" created by the beveled edge of the tongue fitting into the groove of the log above diffuses and relieves outside air pressure, providing superior draft protection. This system is effective without heavy reliance on caulk.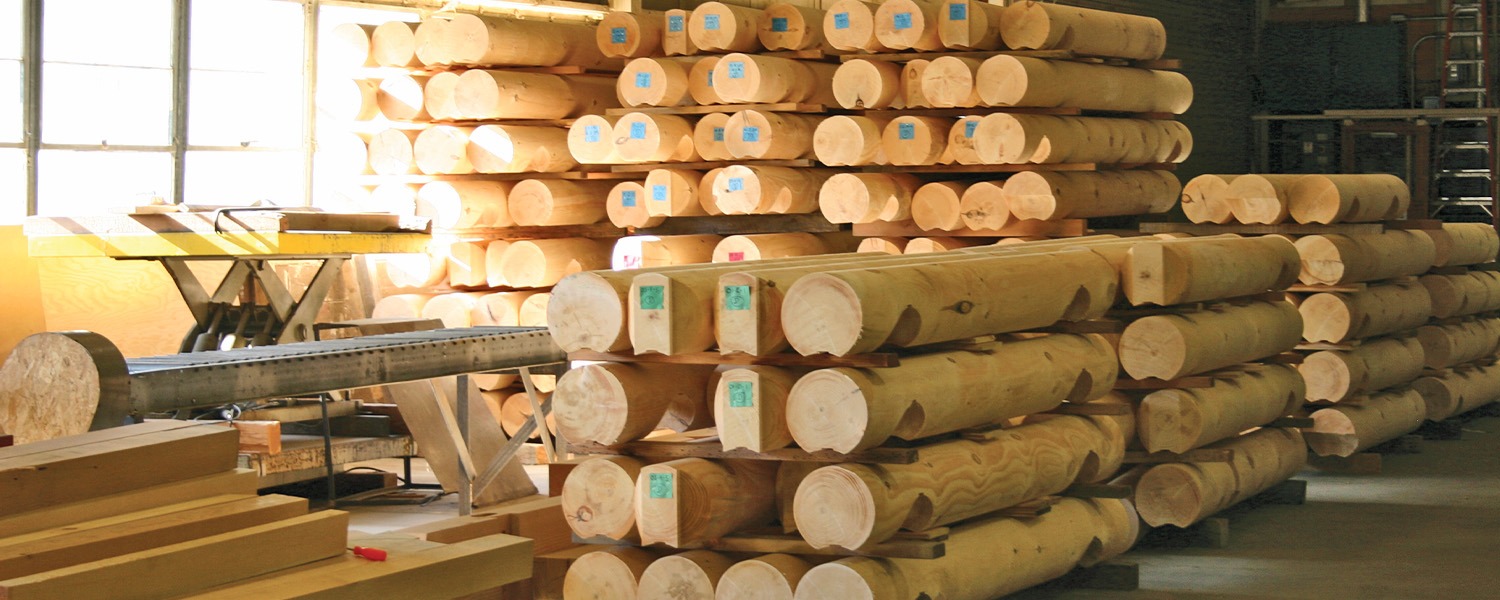 Real Log Homes log home packages are borate treated and allowed to season in place. Our natural drying process, in combination with our InterLock Joinery System, allows our log homes to settle naturally, creating one of the most weather-tight log systems available.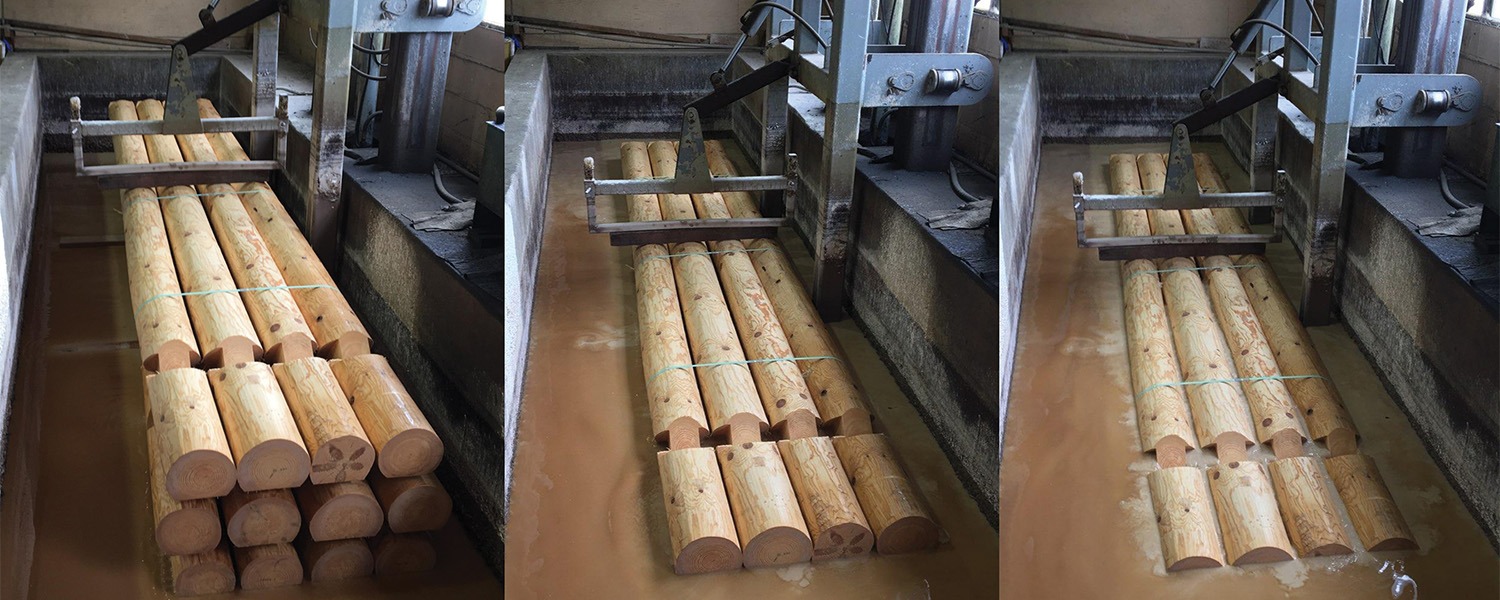 All our logs, except cedar, are treated with AMICAL™ Flowable and Tim-Bor®, an EPA-registered, non-toxic wood preservative, which inhibits mildew, decay, and insect infestations. For effective penetration, bundles of pre-cut logs are immersed in an AMICAL™ Flowable and Tim-Bor® solution, allowing the preservative to soak into the wood. We recommend an exterior maintenance program of periodic applications of a high-quality exterior finish to keep your home protected over time. When properly maintained with an exterior treatment, the benefits of Tim-Bor® are permanent.
OPTIONAL HAND-PEELED FINISH
In addition to our standard fine-sanded surface, Real Log Homes also offers a hand-peeled finish for a more vintage, rustic look.
To learn more about the manufacturing process contact your Independent Representative today, or contact Real Log Homes directly.