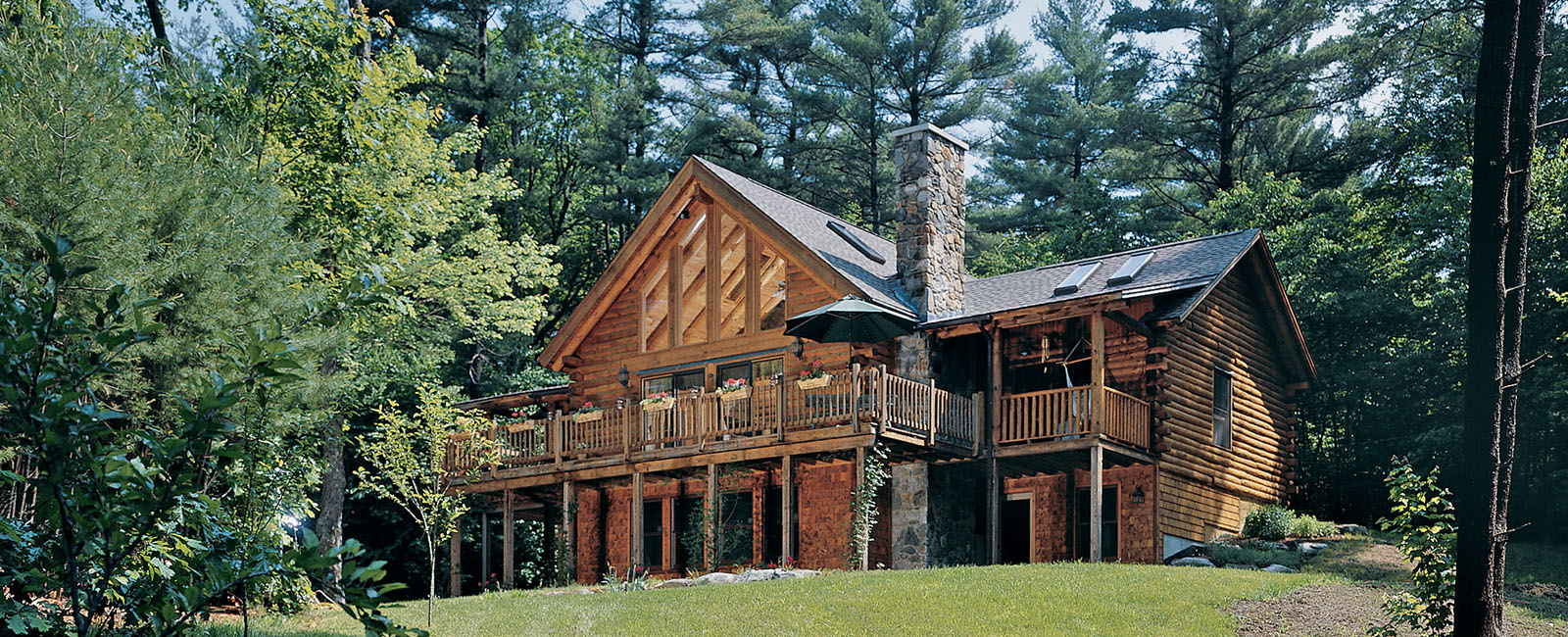 Read more about Belchertown Log Home
Sitting in the woods of the Berkshire mountains in Massachusetts, this is a wonderful example of what you can do to make a log home succeed on a tough plot of land. Covered with tall scrub pines and heavily wooded, this sloped lot didn't initially seem like a good place to build, but the original owners trusted their builder who envisioned a walkout basement that would double the size of the Belchertown Log Home.
This cape-style home features rustic profile logs. The primary entrance is from a porch on the side of the home, bringing you right into the spacious Great Room with cathedral ceilings and a window wall that results in plentiful natural light. A beautiful fireplace and doors to the deck also make it clear that this is the central living space in the home.
Beyond the Great Room is a large dining area which flows to the left and into a stunning kitchen, an ideal place for any family that loves to cook. Not only does it create a bright open environment, but there is plenty of prep and storage space – and that doesn't include the attached pantry. The main floor is finished with a Master Suite containing a beautiful bedroom, a walk-in closet and full bathroom.
While the upper level is comprised only of a large loft, this is a wonderfully versatile space. Whether it becomes another living room, a library, office, or even a bunkroom, an area like this is a welcome part of this home. Meanwhile, the walkout basement includes a massive den with two bedrooms and a bathroom.
As is common with log homes, the original owners included many local touches in the residence. Furnishings were found at a Massachusetts antiques show, keeping the rustic ambiance at the forefront. Even the stone foundation and fireplace were constructed from the builder's own property and salvaged from broken-down stone walls in Vermont. These local and personal touches really make this property shine.