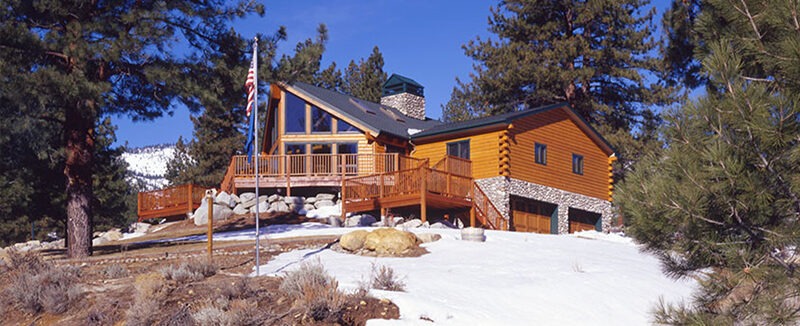 Read more about Carson City Log Home
Often those building log homes are seeking some kind of return to their roots and this was certainly the case with the Carson City. Located in one of the owners' old stomping grounds, they wanted to create a place that was as dramatic and breathtaking as the surroundings.
The Carson City Log Home manages to combine the quaint comfort of a log home with the airy, openness of a more modern plan. With the exception of the kitchen, dining, and laundry room, the bulk of the house boasts cathedral ceilings. This allows for the dramatic stacked cultured stone hearth that is surely the centerpiece of the property. It reaches all the way to the 19-foot peak of the Great Room and invokes the aesthetic of a large, ski lodge fireplace.
Across from the fireplace is a deck that runs across the front of the home. The prow shaped great room allows for plenty of natural light to flood the home, so you can enjoy the landscape whether you are inside or outside. The master suite is on one side of the Great Room, while two bedrooms and a bathroom are on the opposite side. These each feature cathedral ceilings.
On the other side of the hearth is an efficient Quadra-Fire fireplace that opens into the kitchen, another highlight of this plan. The owners wanted to be prepared for family gatherings that can reach 30-40 people, so the kitchen was a crucial part of their design. Not only does the kitchen have two fully functioning antique ovens, but the flow of the home allows those in the kitchen to still be a part of the festivities.