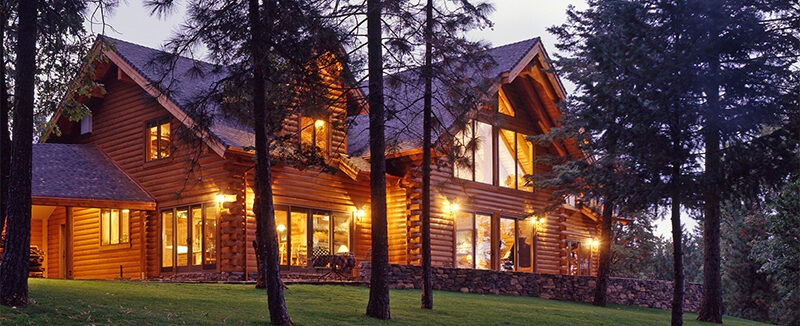 Read more about Colfax Mountain Lodge
While wood is obviously the medium best highlighted in a log home, some of our favorite projects utilize other materials that accentuate the natural beauty of the materials. The Colfax Mountain Lodge not only illustrates the versatility of the logs, but gorgeous stonework throughout the building complements the wood in a way that manages to elevate the ambiance.
The stonework starts with accents on the exterior, it continues with the floor in the entryway. The half-log stairs of the staircase add a rustic touch and wonderful contrasts with the surrounding stone. The cathedral ceilings and exposed log rafters complement a massive river-rock fireplace, making the great room a perfect place for entertaining.
With over 5,000 square feet, this red cedar log home features a dramatic front entry porch and full glass walls in both the foyer and the great room. The spacious kitchen opens to an expansive dining room and displays custom cabinets and granite countertops. The large laundry room by the kitchen also makes for a great private entrance. A screened porch connects the main house to the garage by the kitchen and laundry room.
The master suite boasts a beautiful bathroom and walk-in closet with its own laundry. Meanwhile, two additional bedrooms with private baths, an office and an extra "sewing" room complete the second floor. This is a gorgeous property that really illustrates how to work with various natural materials to create a perfect, open yet cozy and comfortable home.
Credits: James Ray Spahn Photography