Columbia Station Log Home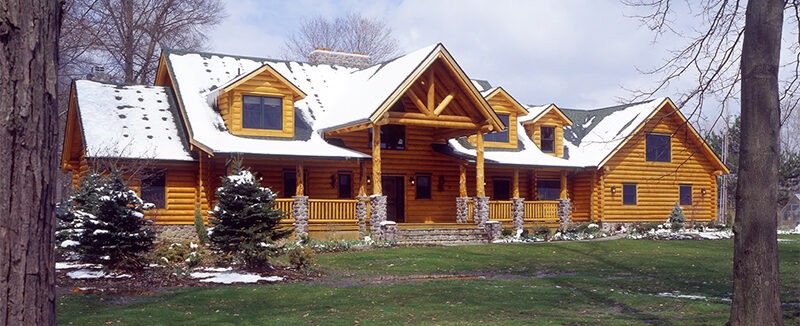 Read more about Columbia Station Log Home
After seven years abroad, the original owners of the Columbia Station had fallen in love with the log homes they had seen in Europe. They enjoyed the natural style of architecture but knew they wanted something unique for their Ohio home. While their original vision came from overseas, it was their ski trips out west that ended up providing a lot of inspiration for the finished project. This included utilizing stone on the base and pillars of the home, along with varied rooflines.
An eye for detail was key to fulfilling the owners' vision of a distinctive log home, which has many custom features. Visitors entering the home will note railings constructed from hand-cut logs from the property itself. Additionally, eight trees were used as beams in the house, contributing to the home's rustic ambiance.
A 10-foot wide, stone fireplace is one of the central features of the home's Great Room. Natural light is plentiful thanks to the glass doors and windows, along with skylights. While Western white pine logs from Montana were used to build the log home, the floors are made of hand-scraped hickory planks from an Amish lumber mill. The kitchen displays hickory cabinets also made by a local Amish manufacturer.
A master suite is to the left of the Great Room and beyond it is a library with cathedral ceilings. On the opposite side of the main floor is a mudroom and an office, which connect the house to the large garage. The upper level has a sizeable loft that looks down onto the Great Room. A small den connects the loft to the storage area above the garage. Another bedroom suite with its own bathroom completes this floor.
While they may have departed from their original European inspirations, the Columbia Station succeeded in creating a unique and personalized space for the owners. They incorporated Western influences along with local craftsmanship to build a home that also manages to highlight the various mementos they collected during their travels.