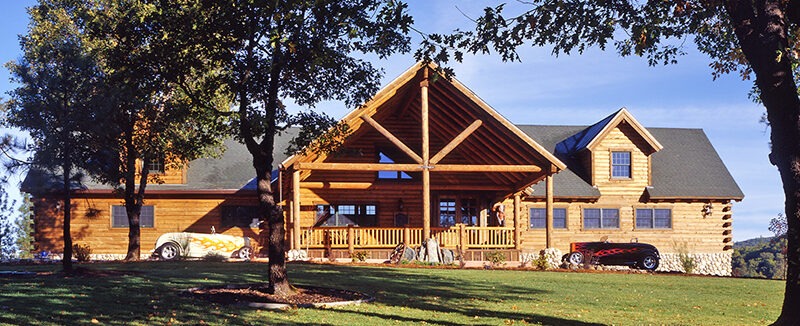 Read more about Grass Valley Ranch
Upon entering the Grass Valley Ranch, you may feel like you have just stepped into the living space of a grand, rustic, log resort. Throughout the house, cathedral ceilings enhance the open plan and plenty of windows means the home is bathed in natural light. While the Grass Valley does a beautiful job of highlighting the logs used to build the ranch-style home, the large, stone fireplace is also a striking feature of the great room.
In the front corner, near the entryway, is a stunning kitchen that brings a modern touch to this rustic home. A large island with bar seating, along with plentiful counter space are just a couple of features that make this kitchen a dream.
Moving to the more private wing of the home, a laundry room is next to the kitchen and attaches the home to the massive garage. A small bathroom and a walk-in closet lead to a stunning master bedroom featuring another beautiful stone fireplace and access to the back deck. A master bathroom finishes the master suite. The other end of the home has two guest bedrooms, another full bathroom, and a sunroom.
When it comes to enjoying the outdoors, the Grass Valley Ranch has significant porches and decks, along with a pool. This home sits on 10-acres and includes a mature Zinfandel vineyard, making this gorgeous Californian property a beautiful place to get away from the hustle and bustle of everyday life.