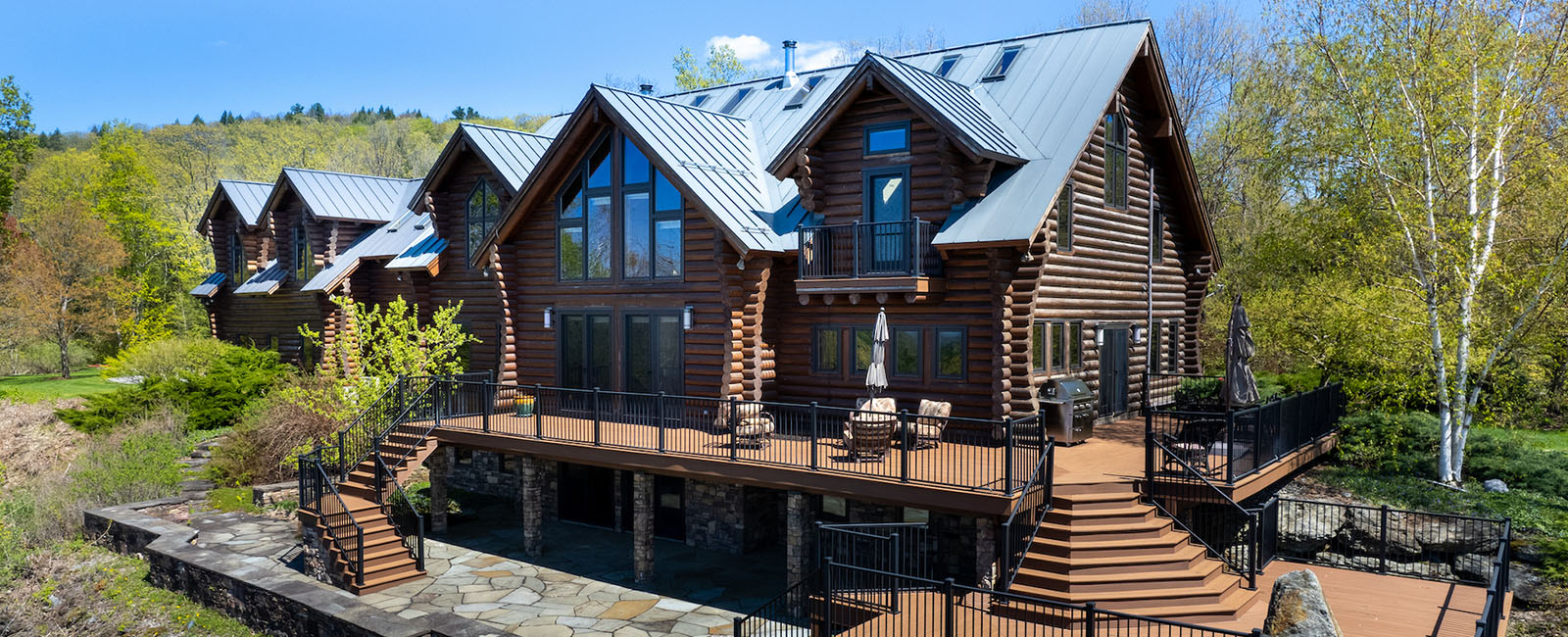 Read more about Hinesburg Ski Getaway
High among the hills of central Vermont sits a home with rustic charm and a high-tech heart. Wanting a log home that looked and felt as though it had been on the site for generations, but with an infrastructure that would take it into the future resulted in the Hinesburg Ski Getaway. This beautiful 11,600 square foot, 10" diameter Swedish Cope style log home sits on a beautiful hilltop in central Vermont, with mountain and lake views that stretch for miles.
Entering the home, one of the first features you will notice is a beautiful 6-foot diameter, iron and cherry spiral staircase. It accentuates the Brazilian cherry hardwood flooring on most of the home's main level. This staircase is a wonderful example of how this home combines the rustic with the modern, but it is just the beginning.
The house was outfitted with state-of-the-art wireless connections. Additionally, the building team installed programmable lighting and HVAC that can be controlled remotely. The second floor features a 9-inch open web floor truss system that masks this tech-smart home's wiring and ductwork.
The great room is very comfortable and features a custom-built entertainment center. The Tulikivi Boulder-style soapstone fireplace efficiently radiates heat to take the edge off those cold Vermont winters. Exposed floor joists below the balcony blend rustic charm with modern comfort in this beautiful space. Meanwhile, the kitchen uses clean, sleek lines to add a modern touch to the more traditional materials, including beautiful mahogany cabinets.
A stunning master suite showcases an elegant and unique inlaid wood wardrobe. Even in the master bathroom, the owners used custom fixtures and rich wood cabinetry. A guest suite also features full log rafters, along with skylights that bring in lots of natural light. Overall, this home illustrates just how modern a log home can be.