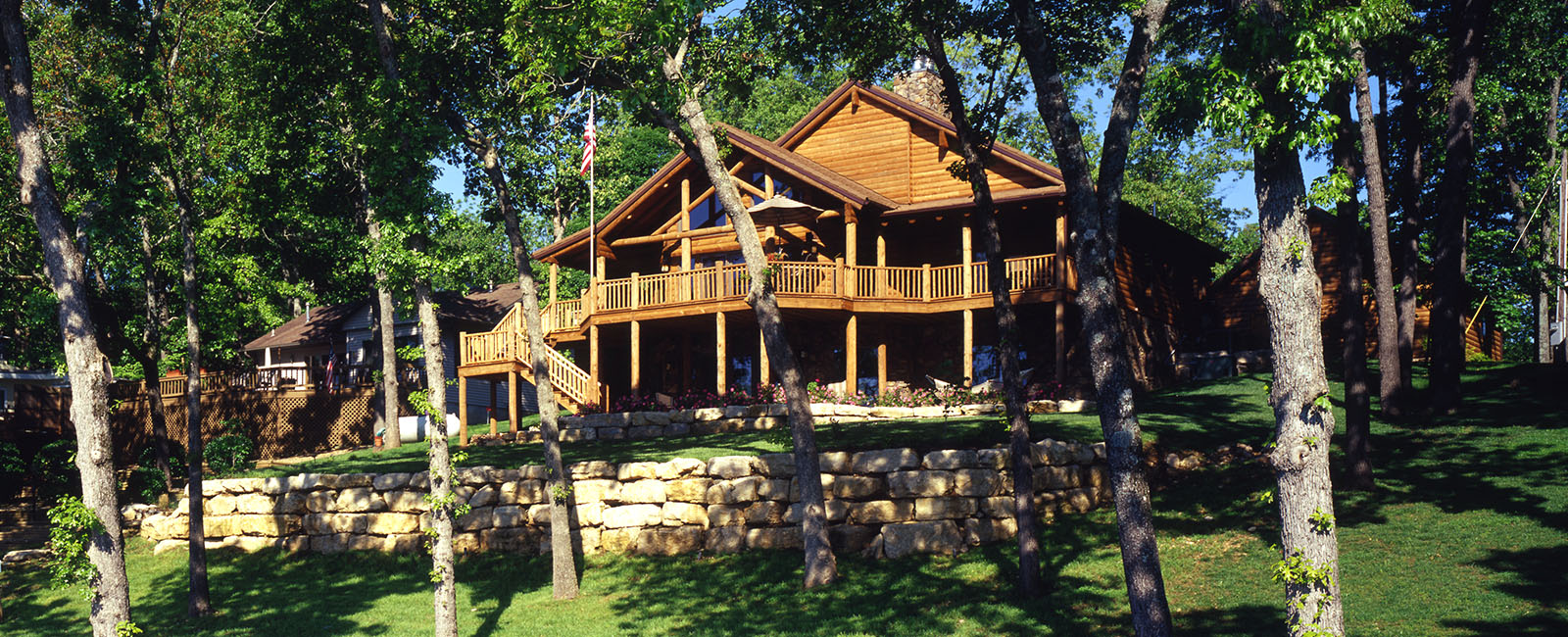 Read more about Shell Knob Log Home
With a small vacation cottage in Missouri by Table Rock Lake, the original owners of the Shell Knob Log Home were able to buy adjacent lakefront property to build their dream house. Designed with an eye towards retirement, this Kansas couple wanted a home that showed their love of the outdoors and would be a fitting place for their taxidermy collection. Using eastern white pine logs and mortise-and-tenon corners, there is a homey feel to the residence that is balanced with contemporary touches.
While the Shell Knob has plenty of traditional log home aesthetics, this plan was customized for the future the owners envisioned. Their priority was to have an open floor plan with soaring ceilings. Unlike many log homes, they eschewed the upper loft in exchange for maintaining this open and airy environment. This resulted in gorgeous views of the lake throughout the main floor.
The Great Room does not only boast lofty ceilings and a large window wall but two structural support beams and a full log aesthetic that adds to the grandeur of the space. Adjacent to this main living room is a full log gable-end cathedral kitchen, a unique and breathtaking feature of the home. A sunroom bump out comes off one side of the Great Room, while a large Master Suite is on the other.
Meanwhile, the 2,000-square-foot basement provides guest bedrooms, a kitchen, a bar, and a family room with its own fireplace. This space is perfect for guests and has its own spectacular lakefront views. During construction, a builder suggested using the space under the sunroom as a tornado shelter, however, this family had better ideas. They turned it into a wine cellar – which could still serve as a tornado shelter in a pinch, along with some supplies to pass the time.