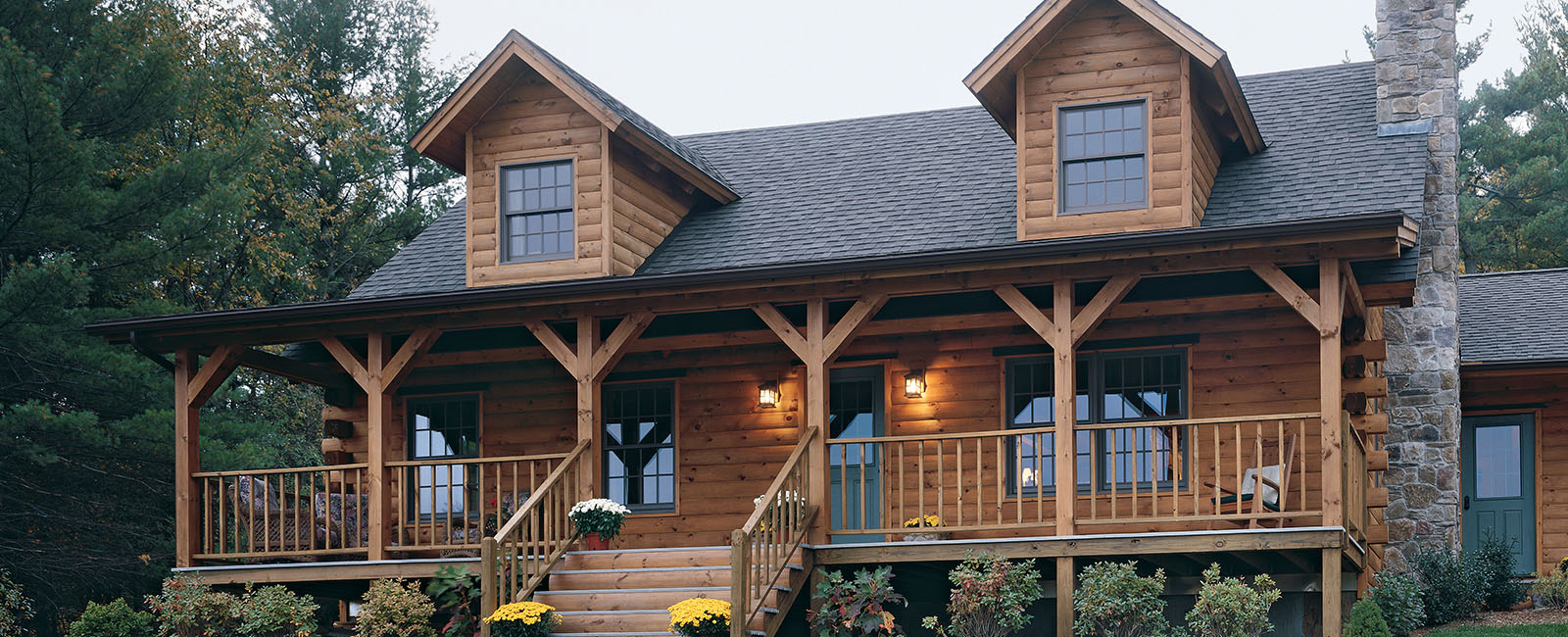 Read more about Sudbury Cape
When the original owners of the Sudbury Cape set about planning their dream home, they knew they wanted a place that was both simple and elegant, while also representing their love of nature. Having both grown up in the mountains, a log home was the perfect place to call home, however, they wanted a more contemporary interior. To attain this aesthetic, 8-inch eastern white pine logs were used in the V-Groove profile, allowing the logs to shine on the outside, but pairing the flat interior finish with square timber rafters and drywall.
Incorporating elements from various floor plans, the Sudbury Cape focused on convenience and organization. While many people choose an open plan with a large kitchen, the owners of this home felt a smaller-than-average kitchen provided them with a more efficient and intimate environment. The kitchen features granite countertops, wrought-iron hardware, and cherry wood floors, balancing the natural ambiance with a more sophisticated aesthetic.
This trend of combining the traditional with the modern also extends to the home's heating system. The great room showcases a beautiful, manufactured fieldstone fireplace complete with a log mantel and providing cozy warmth in the colder months. This is augmented by radiant in-floor heating.
Entering the house from the front porch lands you in the great room with its cathedral ceilings. Beyond it is the aforementioned kitchen, along with a more formal dining room. The custom garage (you can see more about that project here) connects to the house via a pantry and mudroom area that extends back to the screen porch. Meanwhile, on the other side of the main floor is the massive master suite, including a large walk-in closet and a master bathroom.
Some of the touches that make the Sudbury Cape such a great plan can be found in the staircase, banisters, treads, and other log accents, which were hand-milled. A cozy loft looks down onto the great room and is a wonderful office space or another living room. A guest bedroom with a full bathroom is also upstairs, along with plentiful storage space.