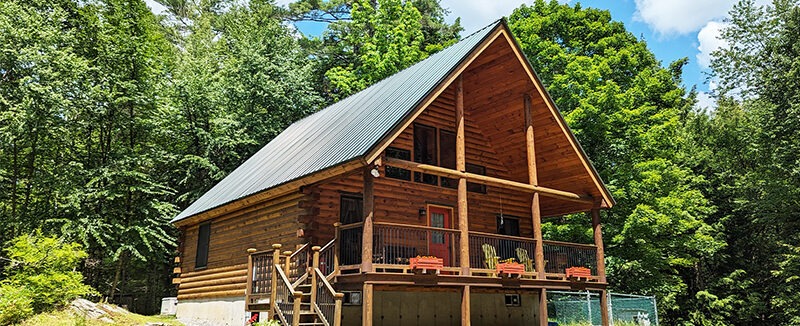 Read more about Weathersfield Log Cabin
Tucked away in the Green Mountains of Vermont, the Weathersfield Log Cabin provides its own unique take on the popular Champlain Cabin plan. It is a wonderful example of how a relatively small footprint can still provide an environment that is both unique, cozy, and grand. In fact, after tragically losing her home to a fire, the owner chose this plan in part because she was able to modify it so that it mirrored the original house's floor plan. Set up high, the front porch is the perfect place to enjoy the beauty and tranquility of the surrounding landscape.
Stepping into home, the cathedral ceilings and open floor plan help keep the space bright and airy. The windows on the main floor and from above allows plenty of natural light into the Weathersfield Log Cabin. To the left is the living room and stairs that lead up to the loft, which makes up the second level. The loft is a great space for an office, game room, den, or even a spare bedroom. This versatile area is a wonderful feature for any smaller home, allowing the owners to adapt it to their needs as they arise.
To the right of the front door is the dining area and for this particular property you will notice a very special dog door that allows the resident pup to come and go as she pleases from the house to the dog yard. In fact, this was such an important feature to the owner that she had a custom log dog entrance put on the outside to match the rest of the home! Beyond this fun feature is a kitchen with a U-shaped counter that provides ample space for prep work or casual dining. In this case, the counter also makes for a great vantage point for a cat to supervise whatever activities are going on around the house!
Finishing up the floor plan, the bedroom is located across from the kitchen, while the bathroom is at the back of the main floor. The bedroom is cozy without being too small. If you are looking for a weekend getaway or have decided to downsize, the Weathersfield Log Cabin is a great option. Check out the 3D tour to get a sense of the space.
Modified Champlain Cabin Standard Plan. Explore the Weathersfield Log Cabin with this 3D Virtual Tour!