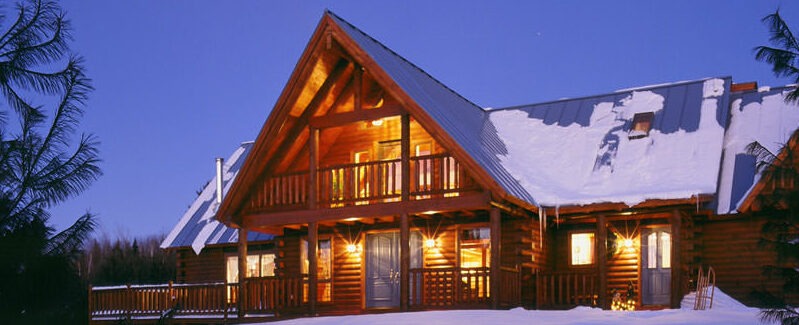 Read more about Littleton Ski Lodge
For skiers and winter sports enthusiasts, the Littleton Ski Lodge floor plan might just be the perfect mountain getaway home. This New Hampshire retreat has the space and practicality for use as a primary home as well, so let's step inside and explore this great Real Log plan.
From the outside, the Littleton blends practicality and tradition, with full-height log walls on the first floor and an A-frame roof defining the upper floor. French doors open into the Great Room to either welcome guests or allow access to the porch. Another door allows access to the home via its formal entryway, with a closet, powder room, and access to the garage and the remainder of the home nearby.
Proceeding left from the entryway brings us to the 400 square foot great room. The room has a stunning, brick fireplace in a corner, providing heat and cozy charm to the space, while leaving plenty of options for your furnishings. Opposite the fireplace is the stairwell to the upper floor. The fireplace and stairwell serve as the division between the great room and the kitchen and dining area.
The dining room provides ample entertainment room for more formal parties, while the same-size kitchen offers bar seating for casual meals. There is also a cozy sunroom with access through the dining room, and a portal in the wall above the kitchen sink looks outside. The spacious laundry room, which features a helpful dumbwaiter to gather clothes from the upper floor.
Off of the dining room and behind the great room's fireplace we can also access the spacious first-floor master bedroom. The plan allots a gigantic 720 square feet to this space, which has its own wood stove. The rear of the bedroom has a large walk-in closet, and a spacious bathroom with dual vanities and separate shower and large tub. From the master bedroom, a spiral staircase takes us to a private loft on the upper level.
Outside of the private loft, the 1,759-square-foot upper level of the Littleton provides two bedrooms and a common area near the top landing. There is also a catwalk over the great room leading to a balcony in the front of the house, providing wonderful views of the surrounding mountains. The upper floor has a full guest bathroom, and the area over the garage is also available as a bonus room. Although marked as a game room on this floor plan, it could be configured for whatever your desires dictate, from additional bedrooms to a movie room. With the Littleton plan you really can have it all!