Easter is only a week away, which means that many of us are planning for holiday gatherings. While Easter falls almost three weeks later this year than last, a great deal of us have procrastinated our holiday planning until the last minute. With that in mind, here are a few touches you can add to an Easter celebration to add some log home charm to the festivities.
Hide Easter Eggs on Log Walls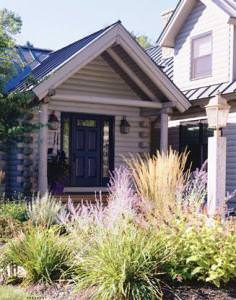 The tradition of painting Easter eggs dates to early Christians in Mesopotamia, where the eggs were always painted red. The tradition of Easter egg hunts originated in Germany, and found its way to the United States no earlier than the late 19th century. If your family participates in Easter egg hunts, then a log home provides great hiding spots unmatched by other houses. If you own a Real Log Home with our Contour or V-Groove logs, then the mortise-and-tenon corner joints provide a perfect place to hide eggs. Real Log Homes also provide many great hiding places on the inside, since most homes have impressive posts and banisters that make great places to hide the eggs. Just make sure someone finds all the hidden eggs!
Log Home Easter Basket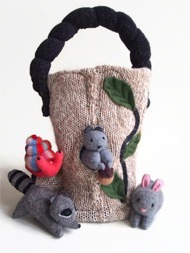 When painting so many eggs, it's only natural to store them in a basket. Over time, Easter baskets have evolved to store candy and other treats rather than just hard-boiled and painted eggs. If you also give Easter baskets to your children, then why not complement your log home with a "log home" Easter basket?
Some of these baskets feature squirrels living in a hollowed-out trunk (like the one to the left). While a squirrel would not be welcome in a Real Log Home, this cute basket does compliment the log home look.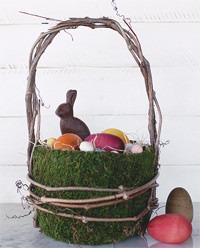 ​Alternatively, you could use a more traditionally shaped basket constructed with rustic braided branches. A basket, like the one featured to the right, is natural and organic, which certainly complements the natural logs. (See how to make it yourself here.) Sites like Etsy are a great source for cute Easter baskets, especially for those of us who lack the time or talents to create our own from scratch.
Set The Table With Spring Colors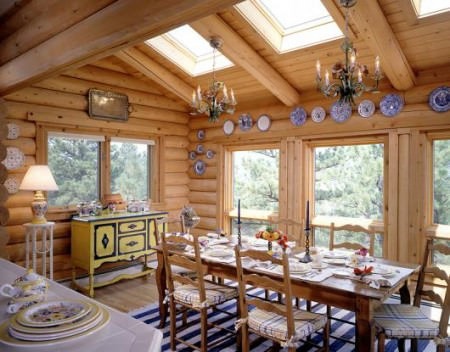 If there was a holiday perhaps most closely associated with log homes, it might be Christmas, or Thanksgiving. After all, log homes do give off that warm and cozy vibe. However, there's no reason whatsoever that a log home can't be a stunning setting for Easter gatherings as well. Some tips to keep your log home feeling fresh and springy are to decorate the table in cheerful pastels and put out bright flowers. Of course, the best decoration tip for any holiday is to fill your home with friends and family.
With so many fun decorating ideas for the spring season, we'd love to hear how you get your home ready for friends and family. Whether you'll be celebrating Easter, or Passover, or just the arrival of tulips and longer days – share your photos with Real Log Homes on Facebook or leave us a comment here. And if you have any questions about building a log home, please call Real Log Homes today or fill out the form below for more information.
.