At Real Log Homes, we naturally love the classic look of a house built with logs. While we appreciate the classical style of a log home, many buyers wish to add additional style elements to the exterior of their homes. Since every Real Log Home is customized to the owner's desires, we are more than happy to design our homes to realize these wishes. In this post, we will highlight a few of our log homes that have used stone and stucco to accentuate their exterior visual appeal.
Since wood heat is a natural companion to a log home, most of our owners design a house with a woodstove or fireplace. With the large great room popular in many designs, a grand fireplace is a natural design element to complete the log home look. In log homes like this one in Sudbury, Vermont (shown at right), the fireplace is made of fieldstone with a classic style. The fieldstone composes the chimney as well, giving the home the rustic charm of a hand-built log cabin on a grander scale.
If a house looks great with a stone chimney, it can look even better with some stone accents around the perimeter of the house. This log home in Carson City, Nevada, has a large fireplace in the living space and a woodstove in the dining space on opposite sides of a large fieldstone chimney.
The stone exterior detail on this Carson City log home does not stop at the chimney, however, as fieldstone is used below the log main level to frame the garage. This distinctive feature coheres well with the boulders present in yard near the deck.
This log house in Waterville, Maine (shown at left), takes the exterior detailing even further by using stucco as well as stone. In this home, the chimney and base of the walls are also made of fieldstone, but the base of the posts supporting the roof over the porch are also surrounded by fieldstone. With the stucco walls framing small areas on both floors, the bungalow style of the home is accentuated while still allowing the log home construction to shine.  We think it's a picture-perfect blending of multiple materials to finish a log home.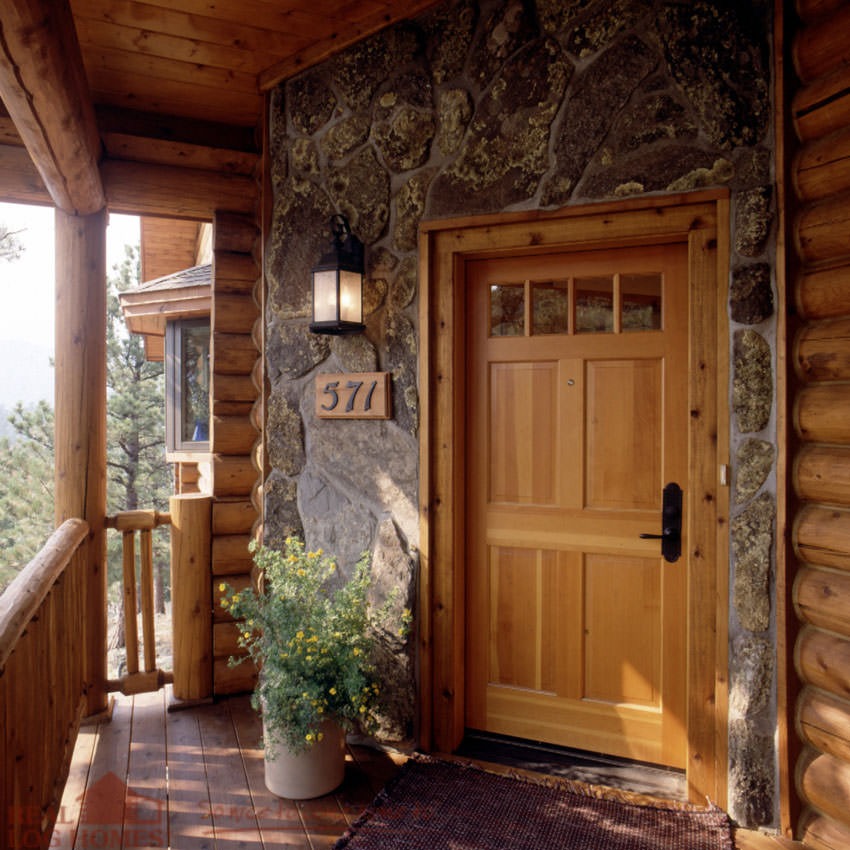 If a fieldstone detail is not your style, then perhaps a flatstone fits the bill. This log home in Estes Park, Colorado (shown at right), uses flatstones and a darker mortar to maintain the look of stone with a more polished, flat wall. With its traditional Swedish Cope timbers and stone detail, it is the perfect gateway to Rocky Mountain National Park and adventures beyond.
So, what would you like to have on the exterior of your log home? Are you a purist who likes to keep it simple? Or do you go for the multiple finish look? Leave us a comment and let us know your thoughts. And if you have any questions about designing a log home of your own, please call Real Log Homes today or fill out the form below for more information
.