When you think of a Craftsman style home, a log home is likely not the first thing that comes to mind. The Craftsman ethos, however, is a perfect fit for log homes. Craftsman style emphasizes clean lines, a solid structure of natural materials, deep eves and low-pitched roofs. All of these features naturally compliment log home construction and design. So, when a California couple was looking for a Craftsman style log home that they could retire in, Real Log Homes Independent Representative Meeker Builders was able to design and build just the right home.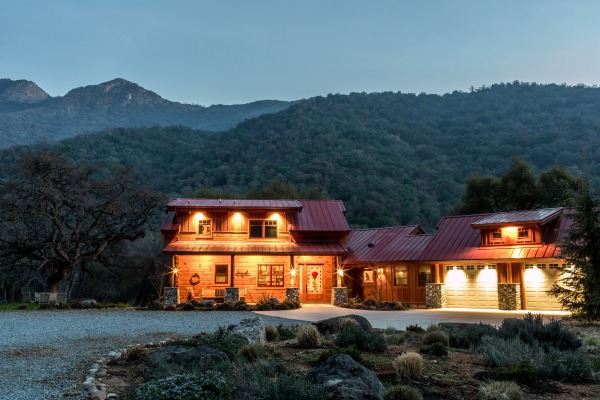 The exterior of the home certainly exudes Craftsman charm. The prominent shed dormer helps increase usable space within the 2700 square foot home while creating a flatter roofline that fits the style. The wide roof overhangs also fit the style while serving to protect the logs. To create the clean lines of a Craftsman home, dovetail profile white pine logs were used. While this profile is popular in the southeast, it is not a common choice in California. In fact, although Meeker Builders has constructed hundreds of Real Log Homes, this was their first dovetail project. Since this home was built three years ago, the profile has been gaining in popularity in the West.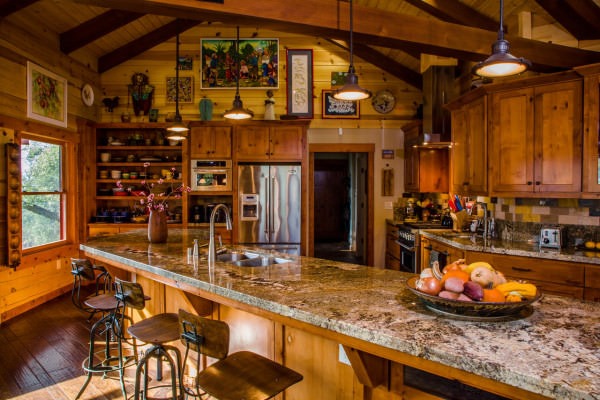 The highlight of the home is undoubtedly the so-called "River Room". This sunroom is attached to the rest of the home by a short, enclosed walkway and sits on posts above a canal below. It affords wonderful views of the property as well as the surrounding Sierra Nevada mountains and waterfalls. The views from this room are breathtaking, and almost demand that you sit awhile and take in your surroundings.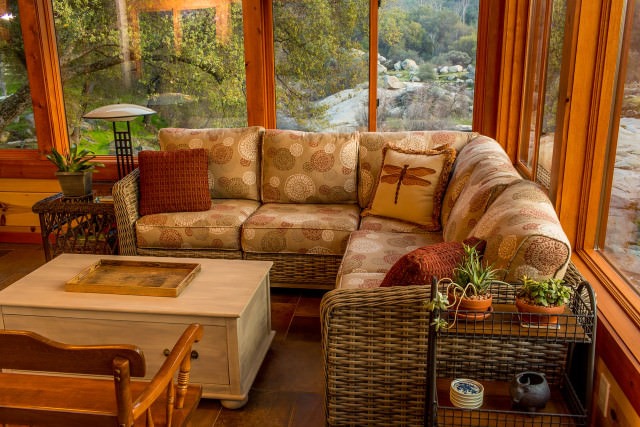 In perhaps its biggest deviation from the Craftsman ideal, the home uses manufactured stone rather than real stone as a backing material for the master-bedroom woodstove. The master suite, like the rest of the home, uses universal design techniques. This ensures that the home will still work as the homeowners age in place. Features like zero threshold showers and large walk-in closets and pantry ensure future usability.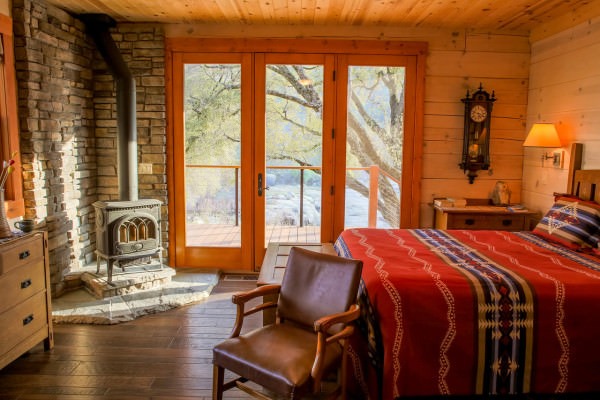 Upstairs is a loft space and bathroom, as well as two small bedrooms. These rooms are normally used as office space but are also used as guest bedrooms for visitors. By keeping these less used rooms upstairs, the main floor is dedicated to rooms that are used every day.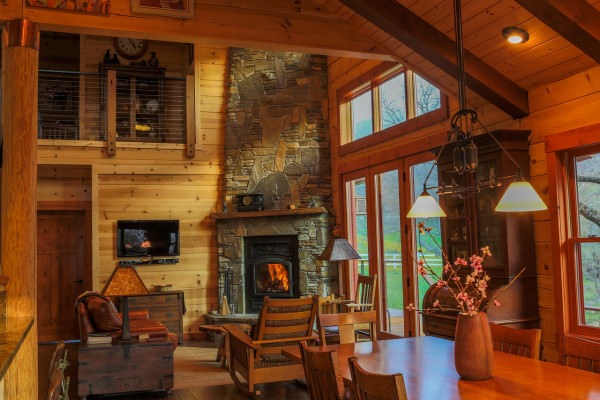 We hope you've enjoyed this look at a unique Craftsman-style log home. If you're looking to build a log home of your own, whatever the style, please call Real Log Homes today or fill out the form below for more information.