Last week on our post on wells, we featured pictures of a home during and after construction. And while this home has a drinking water well, it also has a well for a geothermal heat pump. When the owners were working with Real Log Homes to design this home, energy efficiency and sustainability were top concerns. Here are the ways in which this Sudbury, Vermont home was designed to be practical and attractive while achieving the highest possible Energy Star® rating.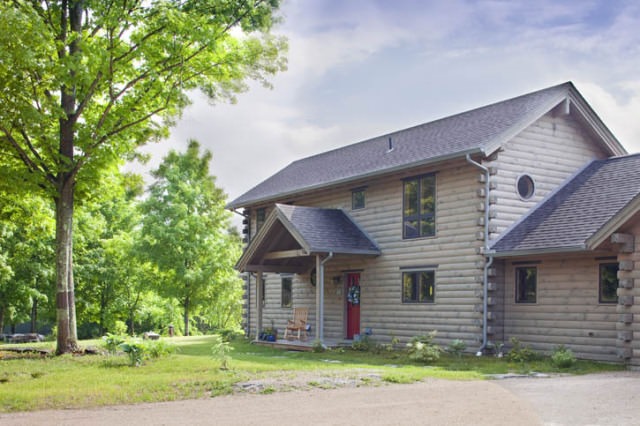 The first detail you notice about the exterior of this home is the saltbox shape. While this style is certainly common here in New England, it is not as common in a log home design. The reason for this style was the decision to forego a basement. Since granite rock is just a few feet below the surface here, excavating a basement would have been very energy intensive. Instead, the homeowners chose to use an insulated slab with a saltbox home to maximize storage. While the front of the home was used for living space, the upstairs rear was used for storage. Combined with storage above the garage, a costly basement was rendered unnecessary.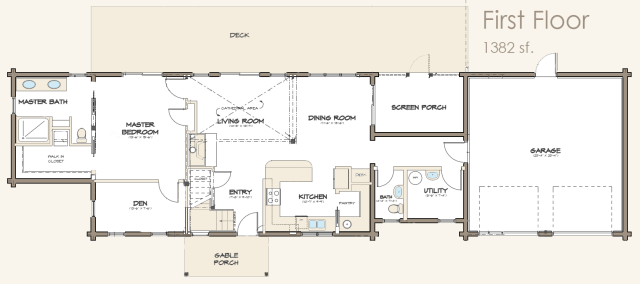 Home heat is also provided in an efficient manner. The home is very airtight, so a Heat Recovery Ventilation system is used to provide fresh air and vent moisture without losing heat. A geothermal heat pump is used for heating, which is complimented by a radiant floor heating system. Since most people are comfortable at lower temperatures with radiant heat, this also helps save energy. A solar hot water system also provides around eighty percent of the domestic hot water needs.
Of course, the choice of Real Log Homes was also driven by sustainability concerns. Once the homeowners discovered that a REAL log home construction uses less energy than stick-built homes, it seemed like a perfect fit.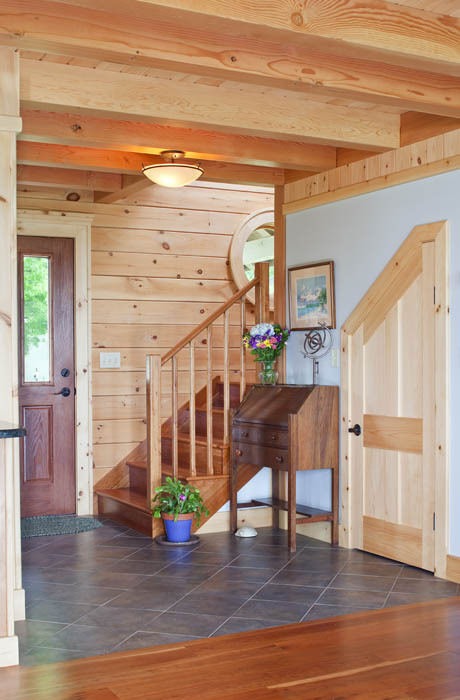 This home is not only efficient but attractive as well. The logs use a V-Groove profile, with contoured exteriors and flat interiors. The outside is stained gray, but still with enough transparency that the knots and grain show through. Inside, the wood is a bright natural finish that really lets the wood's character shine. The living room has a fireplace, of course, but this one utilizes an insert with blower and independent air supply for maximum efficiency.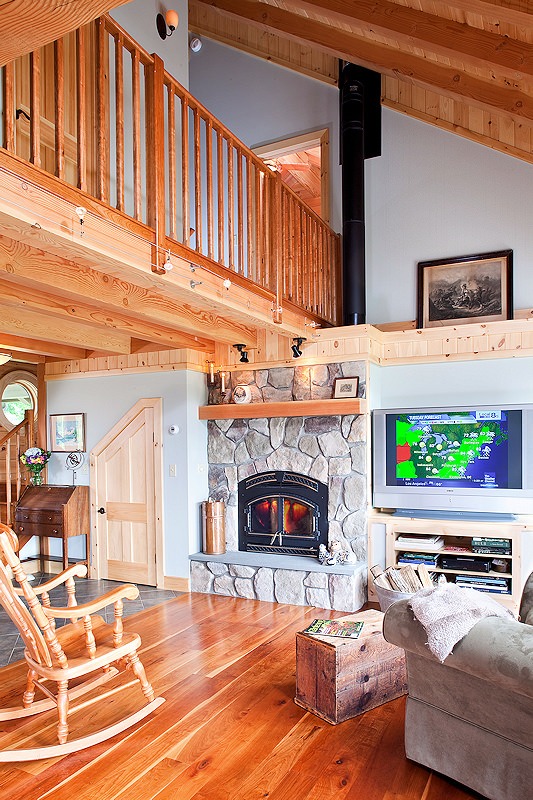 The kitchen continues the bright finishes, with white cabinets and stainless appliances contrasting with the dark countertops. The walk-in pantry even has its own prep sink, which the owners make great use of with harvests from their organic garden. The adjacent dining room easily fits six, although the bar seating at the kitchen sees more use. During the warmer months, the screen porch off the dining room is the preferred location for eating and entertaining.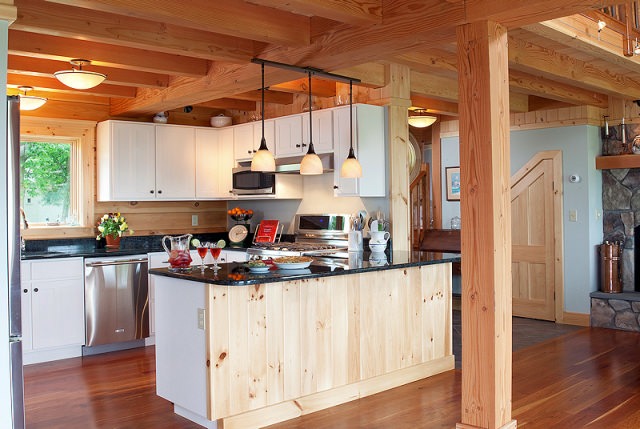 The master bedroom is large and bright with an adjoining den space that can also be used as an office. There is a walk-in closet, and the master bathroom has a two-story ceiling to make the space feel even larger. Upstairs is a secondary bedroom, as well as a full bath and art area on the loft.

If you're looking for an energy-efficient log home for your family, please call Real Log Homes today or fill out the form below for more information. We pride ourselves on providing homes that are simultaneously sustainable, functional, and beautiful.