Last week, we wrote about the great appeal that a fireplace or woodstove has in the log home. And while a grand stone fireplace can have great beauty on its own, fireplaces and woodstoves need to be used to reach their full potential. There are several tools for tending a fire, and each has its niche. Here are some common accessories for the fireplace and woodstove, including ones that would make great gifts for a log home owner!
Fire Iron Sets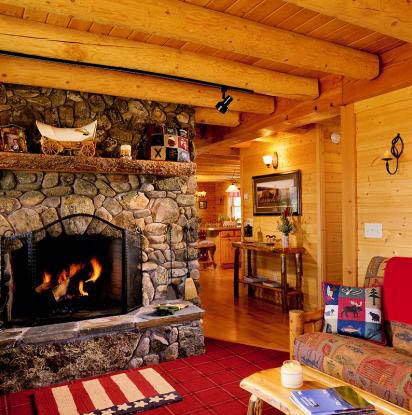 Most fireplace owners will own a set of fire irons for tending a fire. Most kits will include a poker, which is perhaps the most important tool. The poker helps in moving the wood around and spreading coals. Simple iron pokers are common, but brass is a popular choice for a more ornamental piece. After the poker, a shovel is a valuable tool for removing ash from the fireplace or stove. Make sure that recently removed ash is stored in a non-flammable container until it is cooled. Some iron sets also include a brush for cleaning purposes.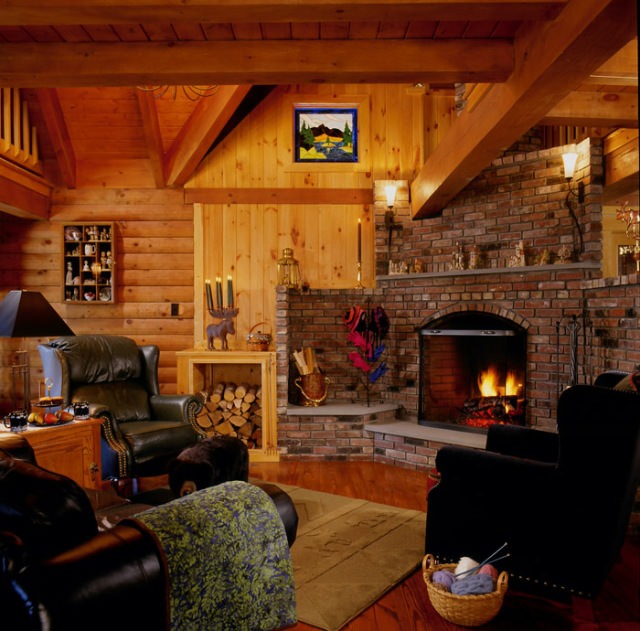 Although these tools will suffice for a woodstove, if you have a large fireplace you should probably also buy a set of tongs. It can be tedious to move whole logs around the fire with a poker, while a set of tongs can make easy work of the task.
Gloves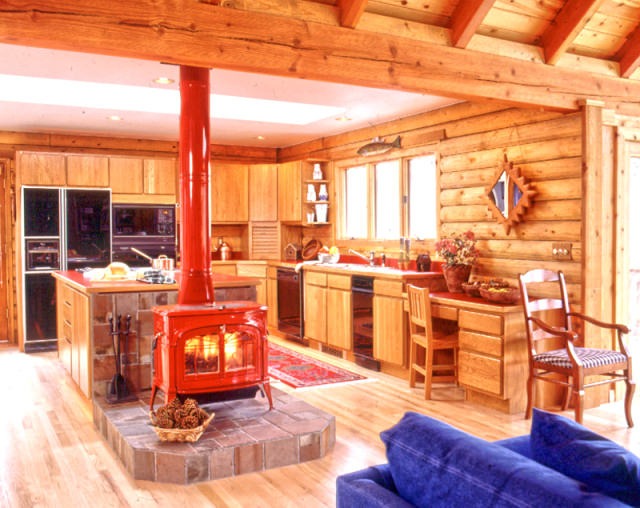 While you may not need hand protection when tending a fireplace, loading a woodstove can be a perilous task without gloves. Although leather work gloves can help, they are too short and often have breathable mesh or synthetic components that are prone to melting. A long glove, like those used in welding, are a much better choice. These gloves can be under $10 for a basic pair to over $50 for more plush and ornate gloves.
Rugs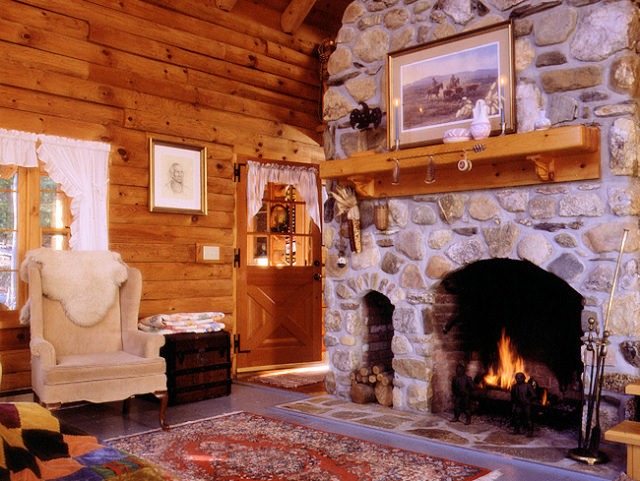 You should keep rugs far enough away from the fireplace that flammability is not a major concern, but protecting rugs from the occasional flying ember may be prudent. For rugs very near the fireplace, materials like fiberglass can be used for the fireproof qualities. Among natural materials, wool is considered to have good fire resistance.
Kettle or Steamer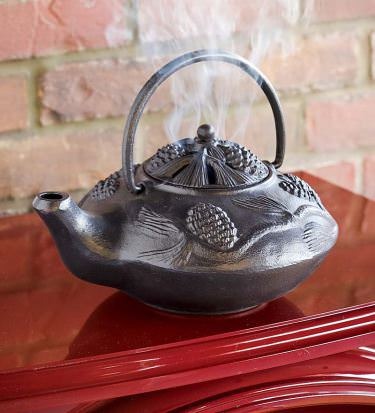 If you have a woodstove, keeping a kettle of water on it can mean great tea is available anytime. And the steam produced can help to serve as a welcome source of humidity in the dry winter months. A matching kettle for the woodstove can be a great functional and aesthetic gift. Specialty kettles are available for use on a woodstove. These special models called 'steamers' don't whistle, allowing you to leave the kettle in place and enjoy the added moisture in the air, without the constant whistle. This model shown at right, and many similarly designed wood stove kettles, are available at Plow and Hearth.
We hope these ideas either have helped your list of gift ideas or have got you ready and excited to start utilizing these great tools in a log home of your own. If you have any questions about any of the homes featured, or about designing a log home of your own, call Real Log Homes today or fill out the form below for more information. In the meantime, stay warm and toasty!