Two weeks ago, we discussed the important impression that your entryway will create on your guests. While this first room of the house is indeed important for first impressions, your guests will of course first encounter your front door. As such, the front door can help set the mood for the entire house. While a front door is usually chosen to accentuate the features of a log home, sometimes the door instead serves to contrast with the home's design. Here are a few examples of front door choices and their effect on the home.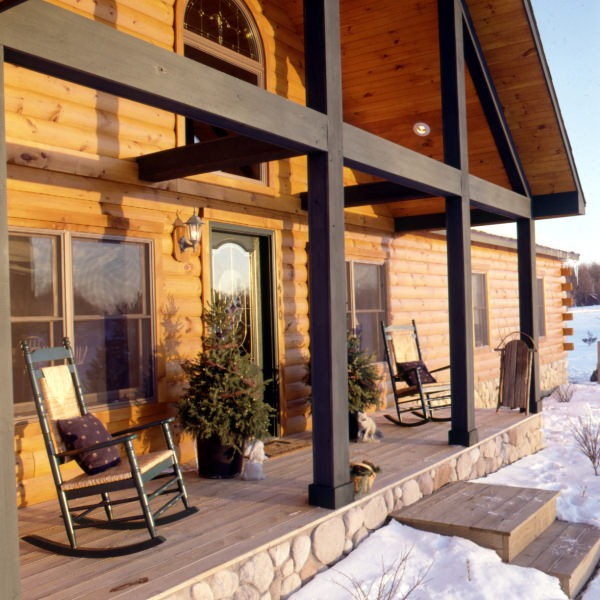 This Indiana Real Log Home was featured in our post on the entryway. Just as the direct entry into the living room creates a very inviting atmosphere, so too is this door an inviting element. While the doors color picks up the color of the exterior posts, the majority of the door's area is taken up by glass. This style of glass door serves as a welcoming symbol to those who approach it, perfectly complimenting the welcoming home inside.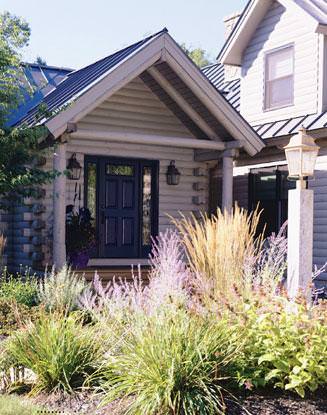 This Massachusetts log home was built with natural light in mind. The owner felt that most log homes were too dark, so he had this home designed to be very bright and cheerful. Pine logs were used with a light stain throughout, and plenty of windows let in the light. The doorway continues this theme, with its transom window and sidelights letting in the natural light from outside. For balance, the door itself is dark and solid.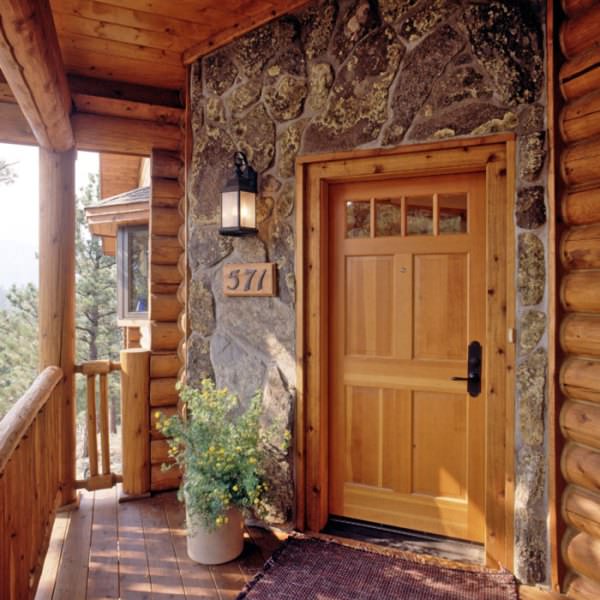 This Estes Park, Colorado log home takes a different approach to the front door. With its high-mounted windows, the door offers the privacy that befits such a wonderful mountain retreat. Even though this door provides more solitude than one with more glass, its light stain maintains a welcoming feel. The light finish also makes the massive Swedish cope logs feel a bit less imposing.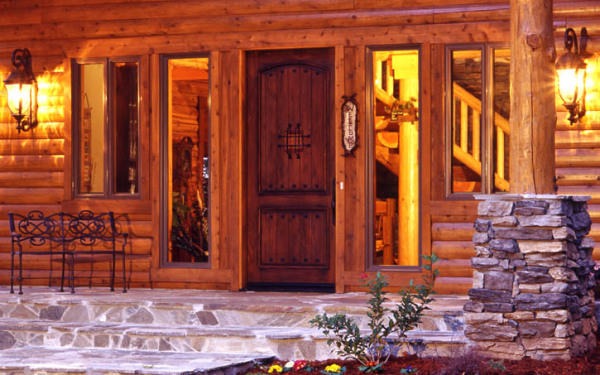 This California log home has a massive front door with an iron cage covering a portal known as a speakeasy. The speakeasy was a development centuries ago to let innkeepers or monks speak with someone outside without opening the door. While it may have been a foreboding security feature long ago, today it is more of a whimsical feature. The large glass windows flanking the door also serve to lighten the mood.
We hope this look at impactful front door design has been illuminating. If you're looking for a log home with the perfect design, from front door to back door and everything in between, please call Real Log Homes today or fill out the form below for more information.