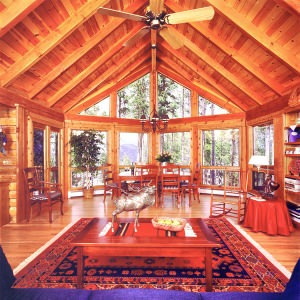 Last October, we wrote a post on predicted future trends in home design. The conclusions of that post were that great rooms and first-floor master bedrooms would become even more prevalent while living rooms and specialty rooms like media rooms would decline in popularity. While this addresses the kinds of rooms that are found in new homes, it did not address how large each of these rooms are. When clients first start working with the Real Log Homes design team on their layout, many have questions about how large each room should be. Clients starting a design from scratch are often especially interested in this question. To help guide your planning, we've compiles data about average room sizes from a 2013 National Association of Home Builders survey of new construction.
Overall Figures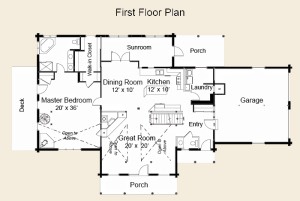 At the time of this study, the average new construction house was 2315 square feet. In this space, on average, were 2.56 bathrooms and 3.38 bedrooms. Although this may seem like a great deal of space to work with, 530 square feet (or about 23 percent) of space in the average home was occupied by "other finished space". This category included hallways, bonus rooms, studies and so forth, but in reality, the hallways take up a large amount of space in the average, stick-built home. One great advantage of a log home is the open floor plan allowed by log construction eliminates unnecessary hallways, freeing space to be used in more functional ways throughout the house.
The Great Room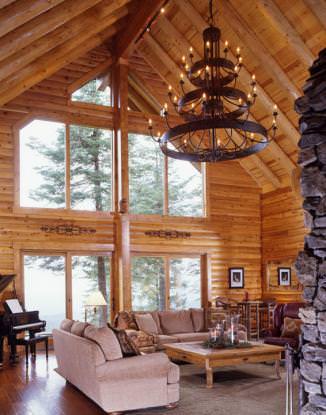 ​This room fully lives up to its name, occupying 550 square feet in the average home. This makes it the largest single room by far. Interestingly, the size of this room does not vary significantly with home size. In homes under 2000 square feet the great room averaged 487 square feet, while in homes between 2000 and 3000 square feet the size was unchanged at 481 square feet. This likely reflects the great importance modern buyers place on the great room and that a larger room would not be more functional. Buyers of smaller homes likely sacrifice space in other rooms in order to maintain the great living and entertaining space of a full-size great room.
Master Suite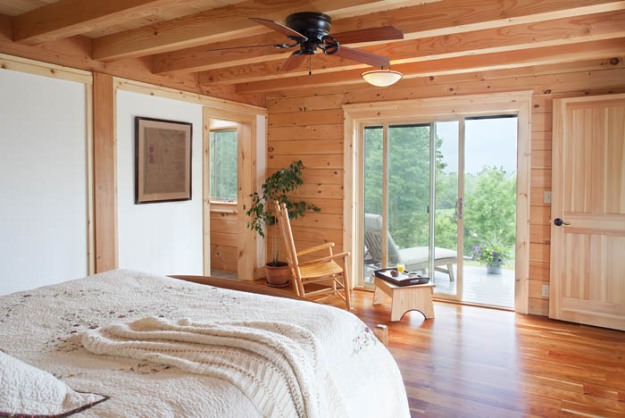 While the great room doesn't change much with home size, master bedrooms definitely become more spacious as home sizes increase. The average master bedroom was 309 square feet, while homes under 2000 square feet allocated 231 square feet on average. In homes above 3000 square feet, the master bedroom averaged an impressive 411 square feet. Meanwhile, the master bathroom also grows impressively with home size. The average master bath was 160 square feet, with smaller homes having around 100 square feet and larger ones over 200.
Guest Bedrooms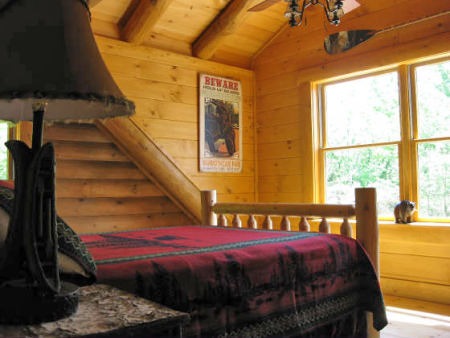 For many years, a 12 foot width was common for guest bedrooms, with small rooms offering 10 feet of length and larger ones maybe offering 14 feet. Since carpeting comes in 12 foot widths, this made the flooring cheaper and easier to install. Today, the resurgence of hardwood floors has broken this pattern, and guest bedrooms tend to be a bit larger. The average total space dedicated to additional bedrooms was 481 square feet. This amount varies greatly with home size, with small homes only dedicating 261 square feet to all additional bedrooms. In homes over 3000 square feet, a whopping 713 square feet were dedicated among the multiple additional bedrooms.
Closet Space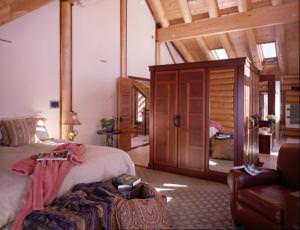 Storage can be a tricky matter in any home, and here is another area where larger homes have a great deal more to offer. The average home had a total of 146 square feet of closet space, but this figure is dominated by large homes which averaged over 200 square feet. Smaller homes averaged only 106 square feet of closet space, and even homes between 2000 and 3000 square feet only had, on average, 125 square feet of closet space.
If you would like to learn more about any of the log homes featured in this post or learn more about how you can work with a designer to craft a log home plan of your own, please  call Real Log Homes today or fill out the form below for more information.