As we reported last fall, a third of homeowners over 55 wish to retire in a smaller home than their current residence. A smaller home can have many benefits, being much easier to maintain as one grows older. However, the prospect of eliminating possessions to fit into a smaller home can induce a great deal of stress. Furthermore, while features like a first-floor master suite are very nice especially for older homeowners, they also put a greater premium on first-floor space. If you are looking to build a home for retirement, then Real Log Homes would be happy to help design a home, large or small, that meets your needs. If you are looking to shrink your home's footprint, then here are some tips for making the most of your space in your retirement house.
Reduce Guest Bedroom Space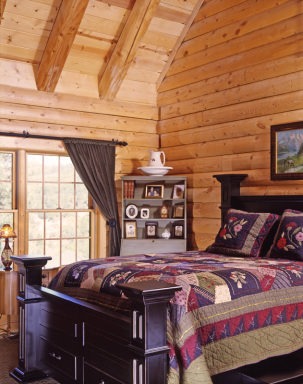 One way to reduce space in the home without sacrificing everyday comfort is to plan for an appropriate number of guest bedrooms. Although children may have occupied these rooms when you were younger, they may now go unused most of the year. Be honest about how often you will have overnight guests. If you need a guest room only once a year, then it is probably best to save the space for other purposes. If you still wish to keep a guest room but know it will usually be unused, then combining the guest room with an office can make efficient use of the space.
Digitize Your Memories
If you have several books of photographs, consider scanning them so the prints can be stored away to free up living space. Digital photo frames allow you to display hundreds of pictures, so your memories can be on display without cluttering a room. If you have other mementos that don't get used often, then taking a digital picture of them while storing the object away can also help reduce clutter.
Tag Your Clothes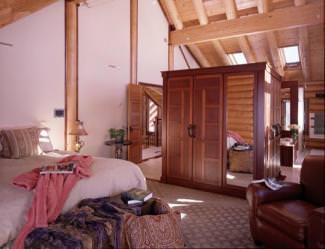 We all seem to have ever increasing wardrobes, and closets have been growing ever larger as well. In retirement, however, you may have a great deal of business clothes that you no longer need. If you need help deciding which clothes to keep, one idea is to place a tag (with date) on all your clothes. When you wear an item, remove the tag. Come back a year later, and seriously consider donating to charity any clothes that still have tags.
Consider Future Needs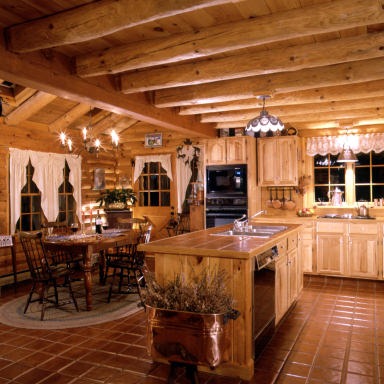 Although you may be able to downsize a lot in retirement, make sure to consider needs you may have in the future that require more space. As you grow older, for example, it may be very handy to have a bench in the bedroom to assist you when getting dressed. Also, keeping hallways, kitchens, and bathrooms wide enough to be accessible by wheelchairs is a prescient concern.
While paring down your items to move into a smaller home can be a tough challenge, designing a livable and thoughtful log home for retirement can be enjoyable and stress free thanks to the design team at Real Log Homes.
They have designed thousands of log homes, each carefully crafted to meet the needs of the homeowners – from young families of 8+, to retired couples looking to enjoy life in a not so large log home. Call Real Log Homes today or fill out the form below for more information.