Last week, we started a series about a log cabin build in Vermont. While this project is a relatively simple build, it allows us to highlight the important steps in the planning process. The first step was developing a program, a set of guiding principles and needs that would inform the design of the cabin. Now that the program is in place, this week we will focus on the design of the cabin.
This first proposal design sketch incorporates all the requirements of the program. The home is accessed through a porch which provides storage for gear and leads into an entryway with more room for personal items. Leaving the entryway, you encounter a stairwell leading to the loft space with four bunk beds, as well as a bedroom to your left with another four bunks.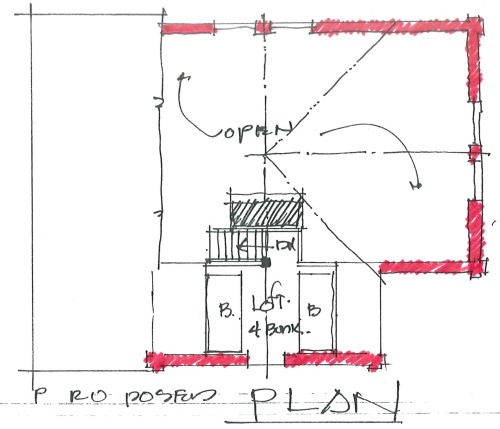 As you continue forward you enter the great room and pass its central fireplace with flanking wood storage. The great room is positioned on the southwest side of the cabin for the best views. A patio with outdoor fireplace is located to the south of the great room, which allows this space to share the great views. Another four-bed bunkroom is located on the north of the home, while the composting toilet bathroom is located in the southeast corner.
After presenting the design and consulting with the owners and their builder, a number of changes were made for the second revision of the plan, which was drafted after a phone call. The porch still leads to an entryway, but the entry has been made smaller and yielded some of its room to a bathroom. This change allows the third bunkroom to move down from the loft to the main floor. The fireplace has moved to the wall between the great room and two of the bunkrooms, providing a more centralized heating solution. The outdoor space gains a screen porch, while the outdoor fireplace has been replaced with a fire pit. Since the upstairs bunks are now downstairs, the loft space has been left open for future use, or possibly even more bunk space.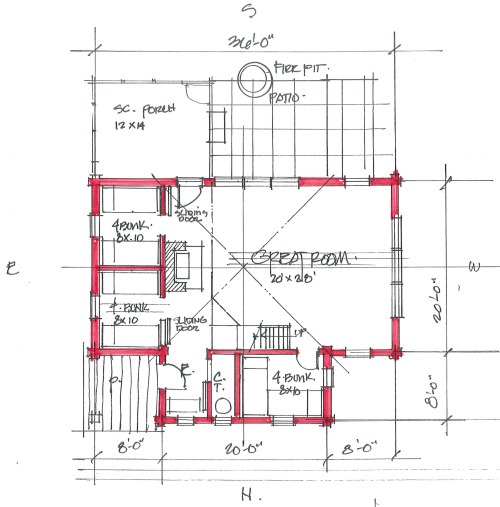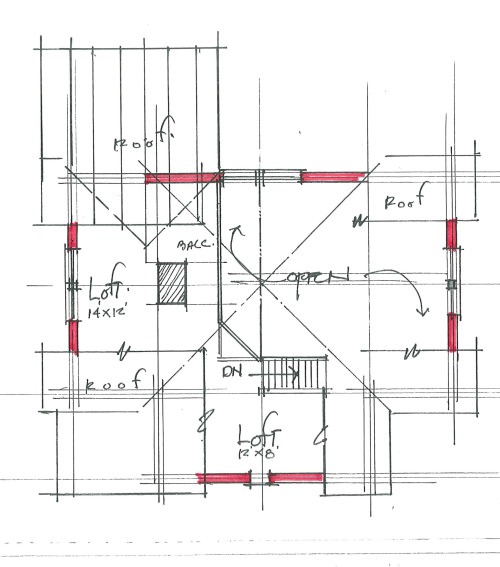 After further consultation with the owners, the final plan was devised. Here, people enter directly into the entryway, and the porch has been replaced by an indoor storage space off the entry. All the bedrooms and great room have stayed put, but the fireplace has been supplanted by an efficient woodstove, which will provide radiant warmth on cold Vermont nights. In the first two draft plans, the northwest corner of the home was notched out. In the final plan, the design has been squared off so the space can serve as a useful kitchenette space, while also simplifying the outline of the home.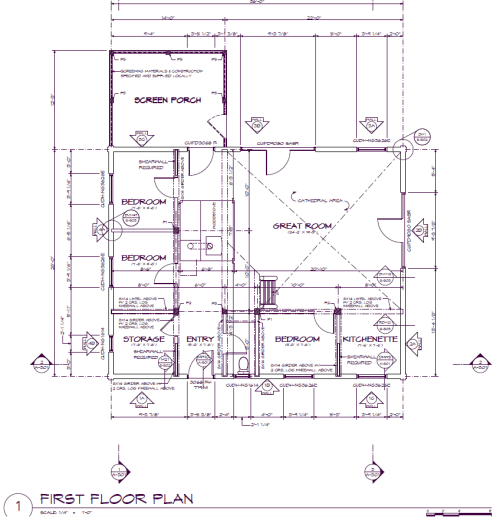 We hope this look at the design process for this log cabin has been insightful. If you have any questions about this or any other log home project, please contact Real Log Homes.
See Related Posts:
PLANNING A LOG HOME: THE PROGRAM