Frequently, we like to feature floor plans of various Real Log Homes on the blog. These posts give you a great look at a finished project, but not a lot of insight into how that specific home was built. So, we decided to spend the next few weeks focusing on a specific Real Log Home project.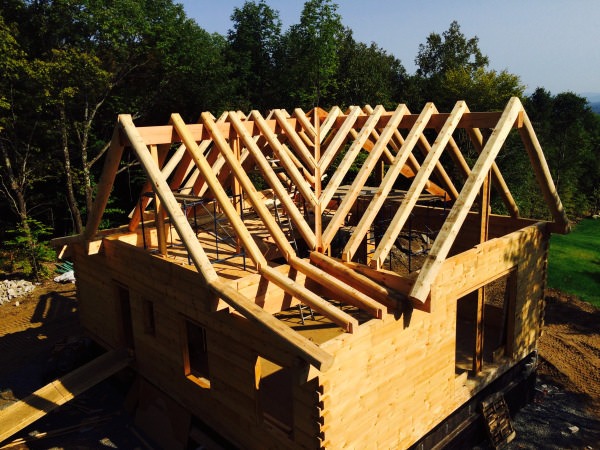 For this project, we will be focusing on an off-grid Real Log Home in Vermont. While the overall design is simple, it will help to highlight the process of building a log home. In this project, the site was already selected, so the first, and one of the most important stages of the process was already complete. The next step was to develop a program, or a list of needs and wants for the project. Instead of jumping right into the design phase, building a program is an important step that ensures the design proceeds smoothly.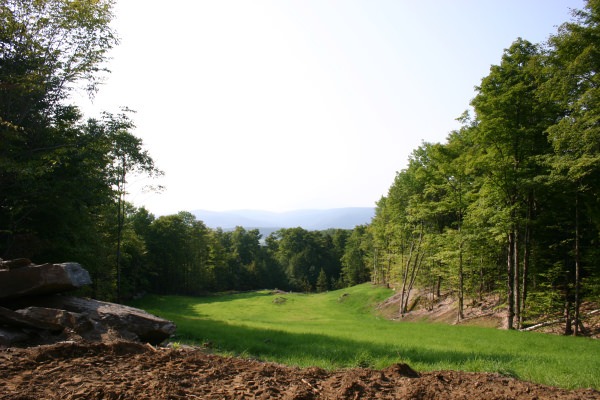 This Real Log project site is in Pomfret, Vermont and has great views to Mount Ascutney and Killington, to the south and west, respectively. Thus, one of the key needs for the program was that the great room maintained these views. This entry in the program would have a number of effects on the final design. Obviously, the need for these views from the great room meant that it would have to be located on the southwest corner of the cabin. The view lines through the forests would also heavily influence where the house was sited.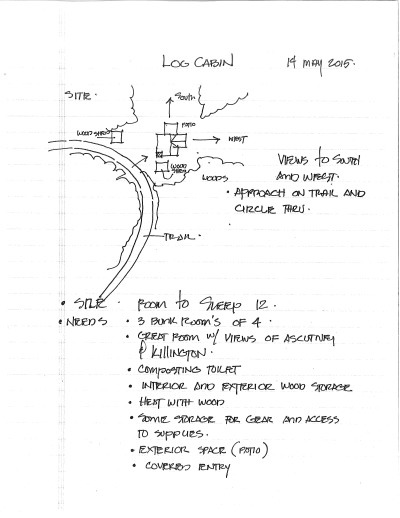 The off-grid nature of the home and its occasional occupancy also affected the program. The home needed to sleep twelve, although high-density bunk rooms were acceptable. Since the home might have no running water, a composting toilet will likely be used. Heating was to be accomplished with wood, so a central woodstove or fireplace was a necessity. Also, exterior woodsheds, as well as interior wood storage, were a must.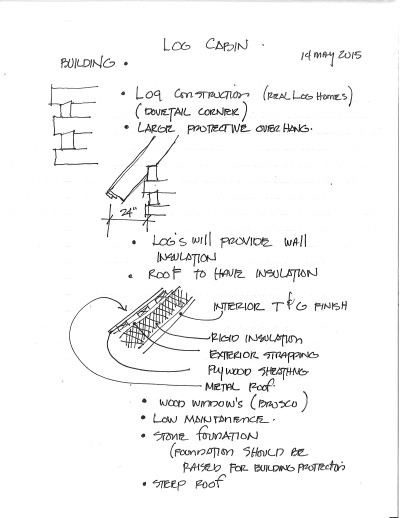 Low maintenance was also a priority for this home. Thus, a steep roof was specified to help shed snow and debris, and a metal roof was a natural choice. Large eaves were specified, with around a two-foot overhang, to help protect the structure from the elements. Per the homeowner's personal desires, the dovetail profile was to be used.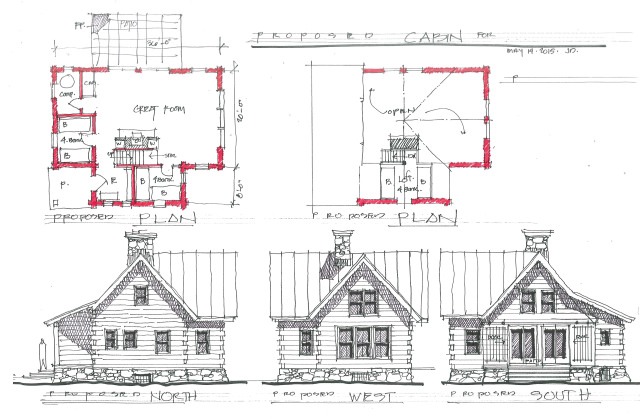 These items make up the program for the home. While not a design, they will heavily influence the design of the home. Join us again next week, and we will view the evolution of this home's design from the first drafts to the final plan. Or, if you want to discuss a program of your own, please contact us.
See Related Posts:
PLANNING A LOG HOME: THE DESIGN