Oftentimes we talk about curb appeal and the great affect it has on visitors' impressions of your home. While the exterior design does have a lasting impact on how the home is perceived, the interior first impressions are also very important. The view that your guests have from your entryway will set their expectations for the home, and will also affect your experience as a homeowner. Here are a few homes with different types of entryways.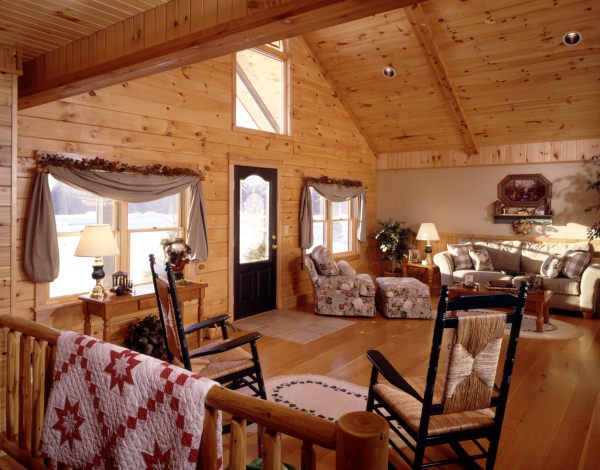 Older homes were typically smaller than homes of today, and didn't have dedicated entryways. Usually, the front door entered directly to the living room. This Millersburg, IN Real Log Home captures the same feel. The interior looks bright and fresh, and entering into the living room makes you feel immediately drawn into the heart of the house. For everyday usability, pairing this type of formal entrance with an informal mudroom entrance can be ideal.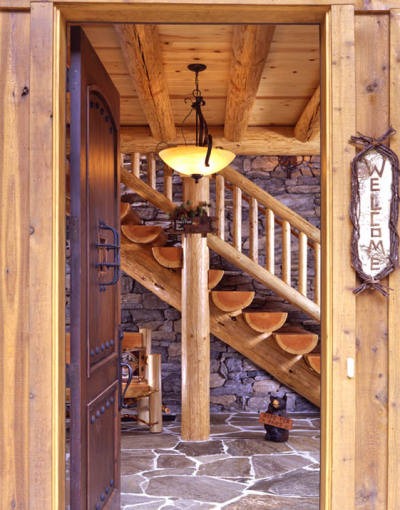 If you are looking to separate your entryway from your great room, then a grand stone fireplace can be used to great effect. Opening the door to this Colfax, CA Real Log Home, you are immediately greeted by a massive fieldstone fireplace behind the equally impressive log staircase. The Columbia Station, OH home uses a similar layout. These entryways immerse you right away in Real Log Style.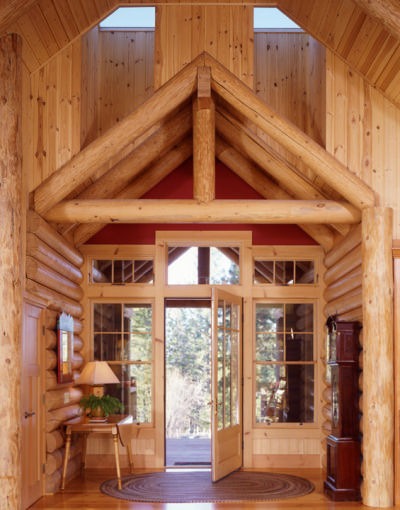 Sometimes, an entryway is designed to not just draw you into the home but to be a focal point on its own. This Auberry, CA log home has an entryway that feels like its own little log cabin. The overhead log truss has an imposing feel from within the entryway, but is set below the roofline of the rest of the home. This makes the entryway feel like a separate space from within, but causes the space to meld into the great room when viewed from that room.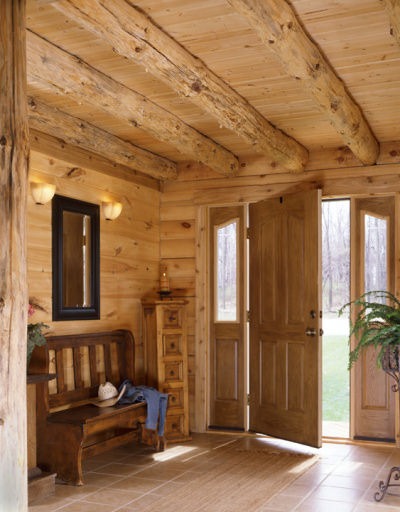 For some homeowners, an understated entryway is desirable to create a cozy space that makes for a more inviting home. This Medina, OH home has quite the charming little entryway. The low ceiling and natural peeled logs welcome you inside and put your mind immediately at ease. The simple furniture and décor adds to the simple charms of the space.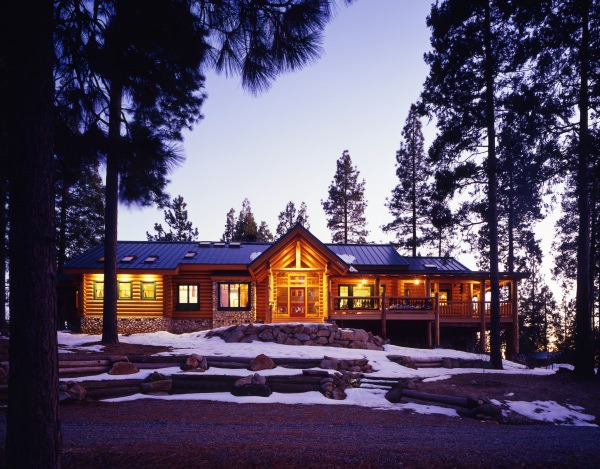 We hope you've enjoyed this look at the oft-overlooked art of entryway design. If you're looking to design a new log home, complete with the perfect entryway, please contact us today.