"Lodge" is an ancient word, with a history dating to the Proto-Indo-European language of roughly 5500 years ago. It originally meant the bark and foliage of a tree, evolving to mean an arbor or pergola in most languages by the 12th century. Today, the term has many meanings, but always denotes a more impressive structure. Although the term can be used for other purposes, like denoting a beaver's den, there are three main types of buildings referred to today as a lodge. Whichever of these three types of lodge you prefer, Real Log Homes can help you build the perfect lodge.
A Gatehouse or Cottage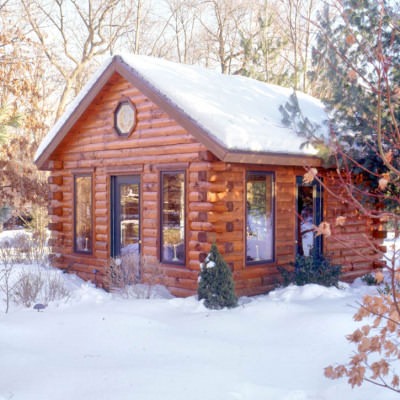 This use of the term lodge may be a bit unusual to Americans, since its use is primarily a European one. Great houses would be sited on large estates, and there would typically be a small house at the gates occupied by a porter or gatekeeper. While even the most impressive estates no longer have servants living at the gates of the property, a small cottage on a property can be considered a lodge. If you already have a home but are looking to build a guest house on your property, then the design team at Real Log Homes would be pleased to create the perfect lodge for you.
A Recreational Residence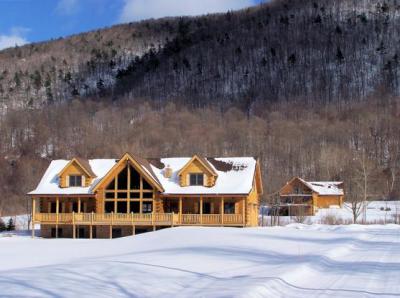 This may be the use of the word lodge that is the most familiar in present day use. In this form, a lodge is any house in the country occupied for seasonal sports like hunting, fishing and skiing. While we recommend a more substantial dwelling than the foliage of a tree, a Real Log Home maintains the rustic character that defines this style of lodge. If you only need a small home away from home for the hunting season, maybe a Real Log Cabin (as we featured a year ago) is in order. If you ski every weekend during the season, maybe a large ski lodge like the Littleton we featured in January is just the ticket. Whether your recreational needs are large or small, we can design a log home lodge specially built for your recreational needs.
Any Large House or Hotel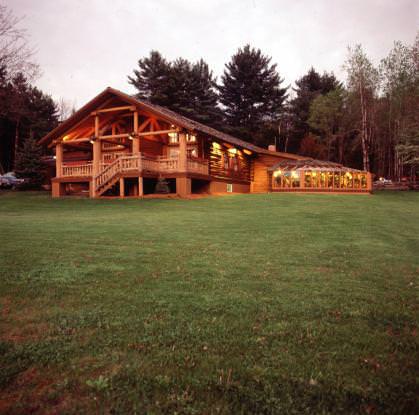 Our final definition of a lodge encompasses any grand dwelling. Typically, a hotel that is considered to be a lodge will be a grand structure located in a rural area. Log construction is a natural fit in this environment, with perhaps the grandest example being the Old Faithful Inn in Yellowstone National Park. Even if your dream home is a bit smaller in scale, like the Big River Lodge we featured a few weeks back, we're sure you will be glad to call your Real Log Home a lodge.
So as you can see, the exact definition of what a lodge is, is not so easily defined. We'd love to hear what you think of when you hear the word. Is it hunting, skiing, days on the lake? Whatever it is, leave us a comment and share what 'lodge' means to you. And if you're interested in designing a log home of your own, lodge style or otherwise, then call Real Log Homes today or fill out the form below for more information.