The Midwest is not known for its mountains, nor for its mountain-style architecture. So, when homeowners just outside of Cleveland went looking for a new home that fit their preferred mountain style, they came up wanting. They decided the best choice was to keep their existing 10-acre lot but tear down their old house and build a new log home of their dreams. After researching other companies, they decided that Real Log Homes was the best company to design and build their home.
This Columbia Station home's Western White Pine logs combine with its stone footings and chimney to create the mountain feel. Despite an impressive 3465 square feet, the house has a comfortable scale due to its many gables. Entering under the large central gable, you are greeted by the impressive stone and woodwork ahead. The chimney and log staircase separate the entry from the great room ahead, while a stripped tree trunk creates an impressive post. Throughout the home, another seven tree trunks are used as posts.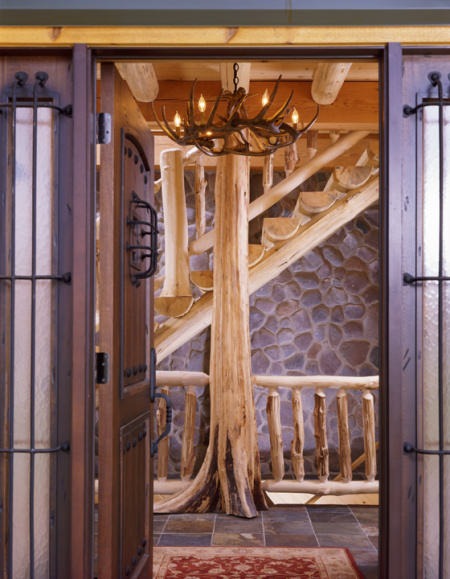 The kitchen is a U-shape overall, with a walk-in pantry conveniently located on one side. The nearby dining room has a thick wood table with plush banquette seating on two sides. Between the kitchen and dining room is a corridor that leads to the garage. Off this corridor are a mudroom and bathroom, as well as a first-floor office. The office has cathedral ceiling since it is open to the dormer above.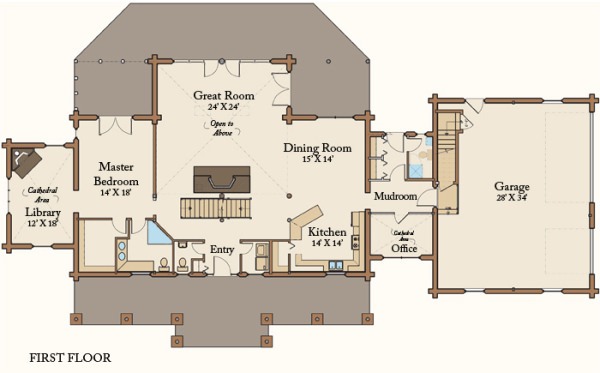 Moving back to the center of the home, the fireplace in the great room commands your attention. Even with the bison head mounted on it, the stone chimney is still an imposing structure. The hickory floors lend a hint of eastern flair to the otherwise western home design and décor. To the rear of the room, a bank of windows and doors lets in plenty of natural light and allows access to the deck.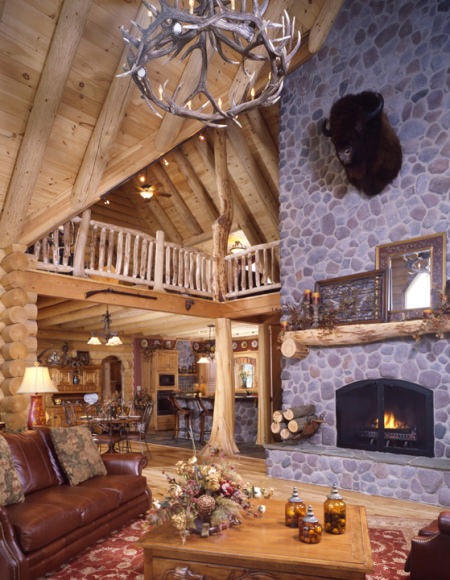 The master bedroom is accessed by an arched door, perhaps drawing inspiration from European log homes. The suite includes a spacious bathroom and walk-in closet, as well as access to a screened area of the back porch. The most unique feature of this suite, however, is the attached library. Entry is through another arched opening, and the cathedral-ceilinged room has its own cozy siting area with massive stone fireplace.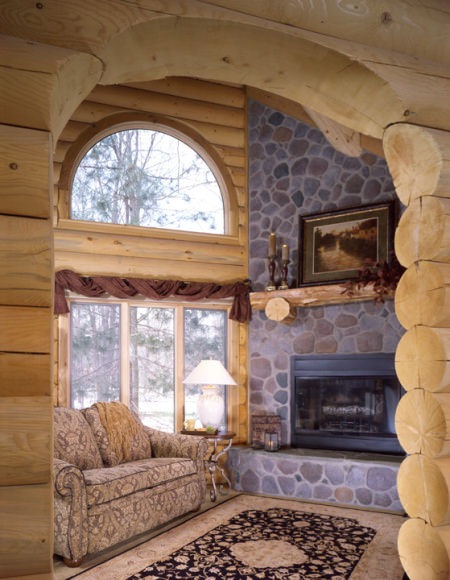 Upstairs is one additional bedroom with full bathroom, as well as a small den space. Most of the space upstairs is an open loft, with the nooks formed by the dormers used for various sitting areas. The 950 square foot area over the garage was left open as a storage area for the owner's home business, but could easily be partitioned off for additional bedrooms.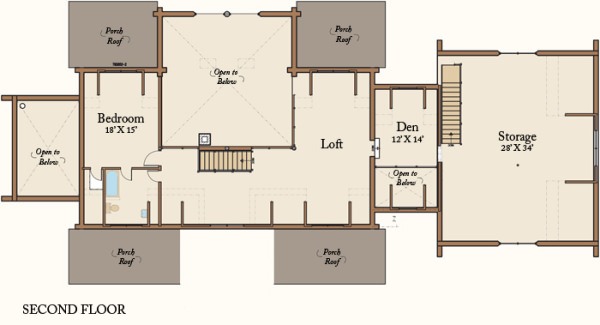 If you like the design of this log home or are looking into building any style of log home, please call Real Log Homes today or fill out the form below for more information.