At Real Log Homes, we are thrilled to design and manufacture log homes both large and small. Sometimes a home site is so magnificent that it calls for an equally grand log home. Such is the case for this log home in Colfax, California. Nestled in the foothills of the Sierra Nevada range, near the site of the 1849 gold rush, the setting screams out for a magnificent log home. The Colfax delivers, with a colossal 5112 square feet of space.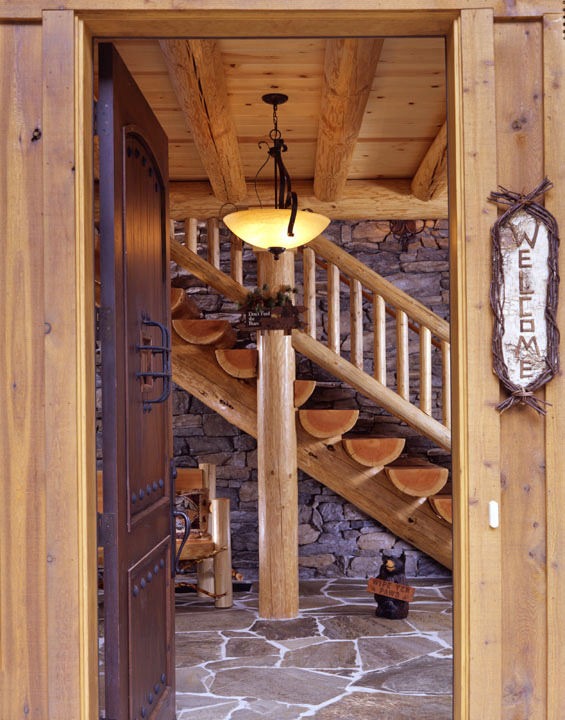 Since the Colfax is constructed with Western Red Cedar, it has an entirely appropriate western lodge ambiance. The gabled porch is an imposing structure befitting the house. Entering through the main door, the unique main staircase commands your attention. Composed of half log treads and a decorative log railing, the staircase is naturally highlighted by the contrasting massive stone fireplace serving as the perfect backdrop. To the left is a full bathroom and to the right a large coat closet.
Beyond the staircase lies the great room. At 960 square feet, it certainly evokes the feeling of a grand space. The cathedral ceiling here is 27-feet tall and is accented by full-log rafters. Opposite this bank of windows is the stone fireplace, which dominates the room. In fact, it is so large that the 12-foot tall, 8-foot wide iron chandelier seems small in comparison.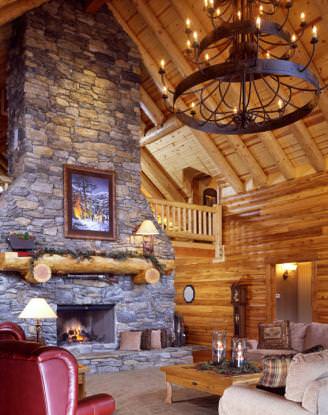 On the left wing of the house is the master suite. The entry to the bedroom has a short hallway formed by the master closet, providing welcome privacy. The bedroom has its own stone fireplace and access to a stone-bordered rear deck. The master bath features a large soaker tub and separate walk-in shower, while the expansive walk-in closet features a seating area.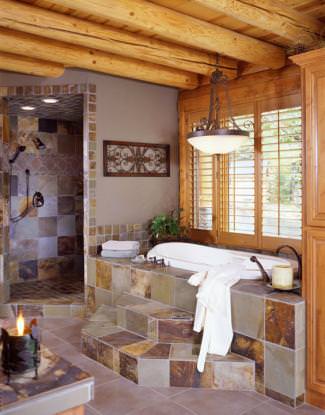 On the right wing of the house lie the dining room and kitchen. The 280 square foot dining room can easily entertain parties of 10 or more while also offering access to the patio. The kitchen centers on a large island with seating for four or more, plus prep space and a sink. The main sink, range and fridge are located in a U-design around the island, allowing for ample room to entertain and make meals. Behind the kitchen is a multifunctional room, housing a walk in pantry as well as laundry and mudroom functions.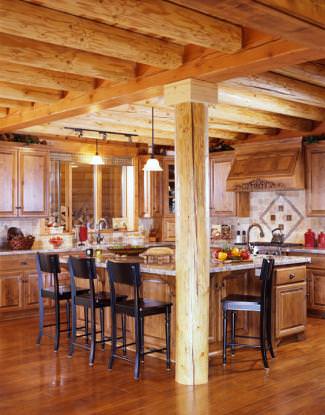 Heading upstairs, you arrive on a loft with a generous seating area. Over the right wing of the house is a large (520 square foot) office space plus a sewing room. The left wing of the house has two spacious guest bedrooms, each with large closets and full bathrooms.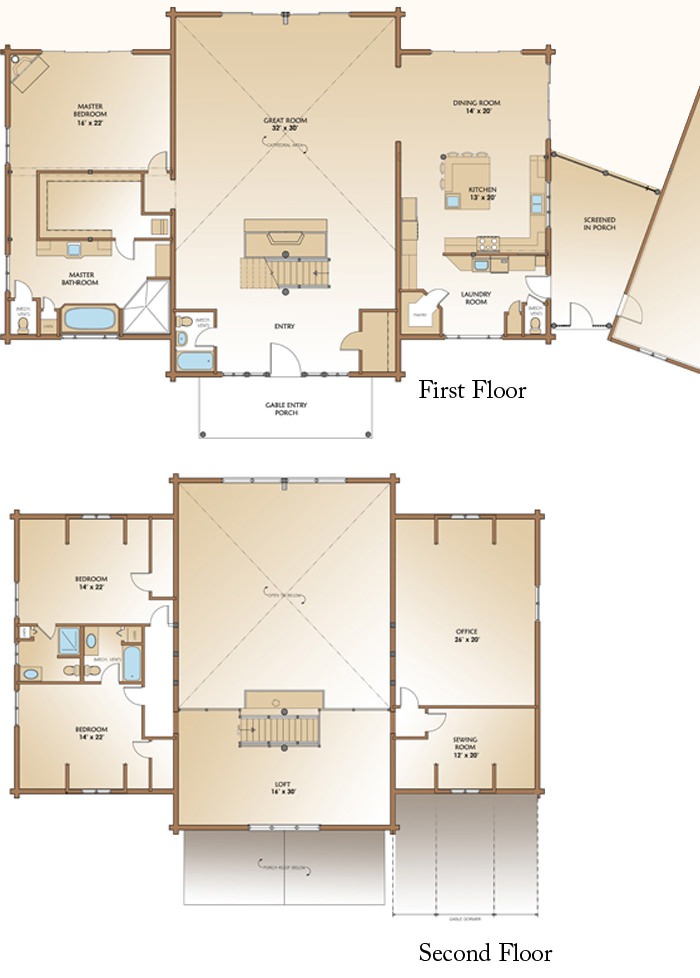 If you'd like to learn more about this log home floor plan by Real Log Homes, or how you can design a log home of your own, call Real Log Homes today or fill out the form below for more information.