As we've mentioned several times before, the great room is the defining interior space in the majority of today's homes. While the separate family and living rooms may be harder to find in modern construction, one of the great advantages of building your own Real Log Home is that our designers will work with whatever plan you have in mind. Separate family and living rooms certainly fit in a log home; they can provide a more intimate spaces than one with only a single great room. If this type of house sounds right for you, then the Ashley floor plan may be just what you are looking for.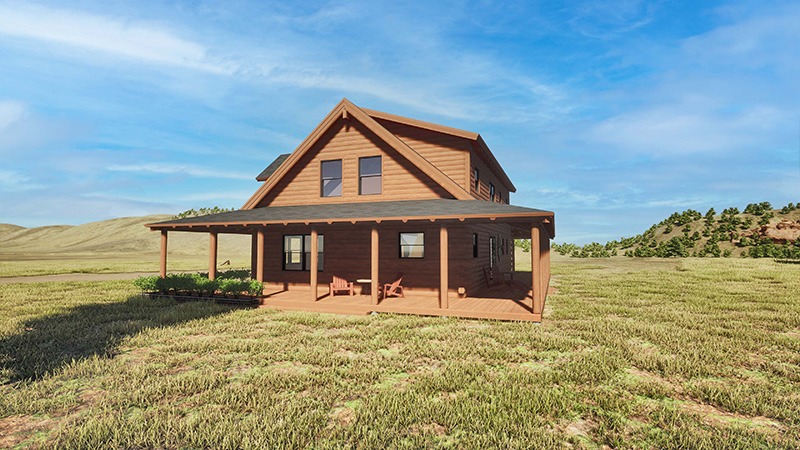 First, you'll notice the picture in this post is a rendering rather than a photograph. While we normally post photographs of completed Real Log Homes when discussing floor plans, we thought we could show you how our designers can use renderings to bring dream homes to life while they're still in the design phase. Here, the Ashley is a lake house, with abundant outside space and a wraparound porch. This feature adds traditional charm while maintaining a great outdoor space that protects your home from the weather.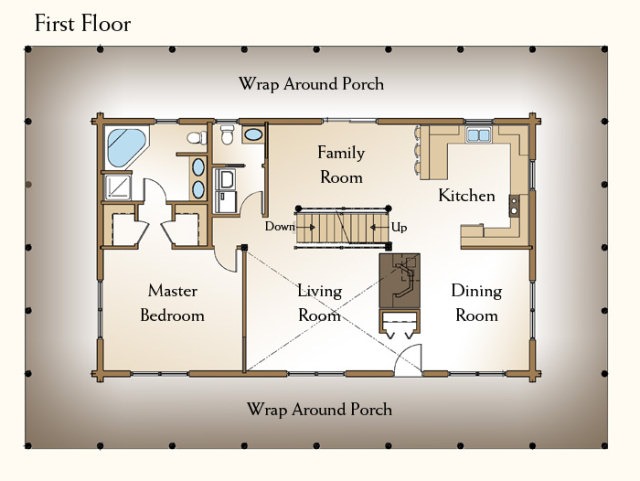 Heading inside there is a spacious closet to hold your coat. The entryway divides the space between the living and dining rooms, while the stairway to the upper floor divides the family room from the living room. In keeping with its traditional charms, the living room has provisions for a large fireplace or woodstove. The living room is open to the floor above, allowing for the stoves heat to rise to the floor above. The family room is a more humble space, with single-story ceilings and a door to the rear porch. The kitchen is a spacious U-design, with great natural light and bar seating for informal dining.
Although the home follows a traditional plan, the first floor master suite and laundry are nice, modern touches. The laundry (and guest bathroom) is located centrally between the master suite and the remainder of the first floor, maximizing the room's convenience. The master suite is quite spacious, featuring walk-thru his-and-hers closets and a separate shower and spa tub.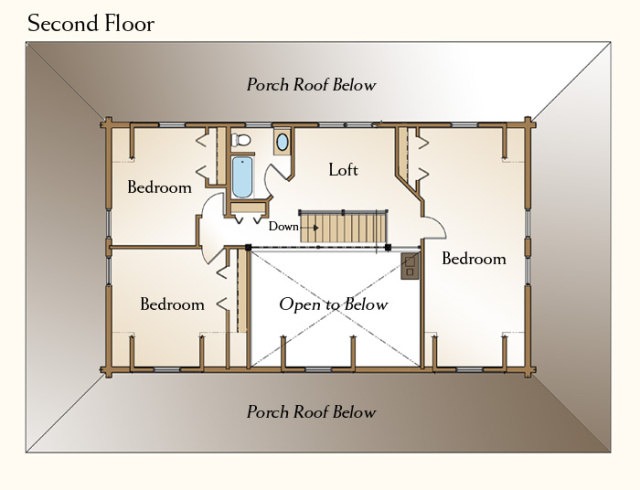 Upstairs, there are three bedrooms for children and guests. Each room has ample closet space, with one bedroom larger than the other two and spanning the entire front-back length of the house. If the extra beds aren't needed, then this room would make an excellent playroom. The stairwell also frames out a loft space which would be excellent for an office.
If you'd like to learn more about this log home floor plan, how you can modify this floor plan, or how you can design your own floor plan from scratch, call Real Log Homes today or fill out the form below for more information.  They have years of experience crafting log home plans ideally suited for your land and your needs.