When Jason Arabian was designing his dream log home, he had initially chosen another company. After being dissatisfied with the design and costs, Jason was referred to Real Log Homes by a flooring manufacturer. Working with C.M. Allaire, one of our independent representatives, as well as our staff at Real Log Homes, Jason was able to design his ideal log home. He has been very satisfied with the results, and after examining the home in this post we are sure you will agree that the endpoint is a very impressive place to call home. Join us in exploring the Big River Lodge.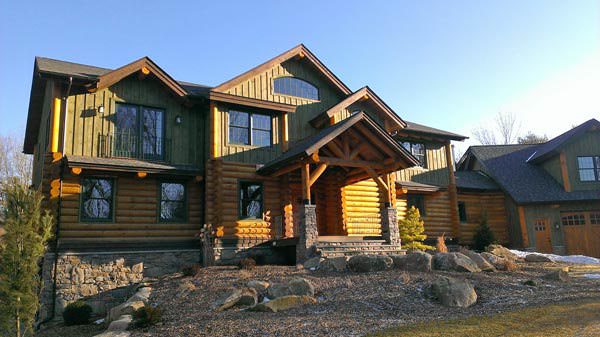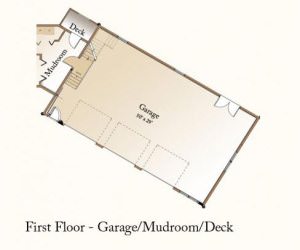 The exterior of the lodge strikes an imposing figure, with massive Swedish Cope logs framing the first floor. On the second floor, a green board-and-batten siding lends a lighter touch, while stone foundation detail anchors the house into the hillside. To the right, a generous three-car garage accommodates even the largest vehicles, and also provides access to the mudroom and informal entry.
Past the mudroom we find access to the laundry, as well as the first floor restroom. On the left, a pocket door conceals a large walk-in pantry for the kitchen beyond. The kitchen provides all the amenities expected in the modern home, with a large amount of workspace in a U-shaped layout. A substantial island provides both work and informal dining space. The cabinets are green and compliment the house's exterior, with a very convenient end cabinet providing charging space for cell phones and tablets.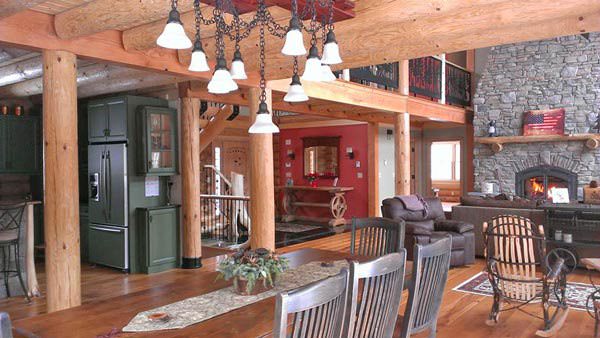 Opposite the kitchen, the large dining room accommodates parties of any size, yet is perfectly scaled for this 3,233 square foot home. The dining room has access to the deck, and also flows into the cathedral-ceilinged great room. The massive stone fireplace adds gravitas to the room, while also combining with a front-facing office room to provide a short hallway of privacy before the master bedroom. The master bedroom features a large walk in closet and a master bath with expansive counter space, large shower and its own linen closet.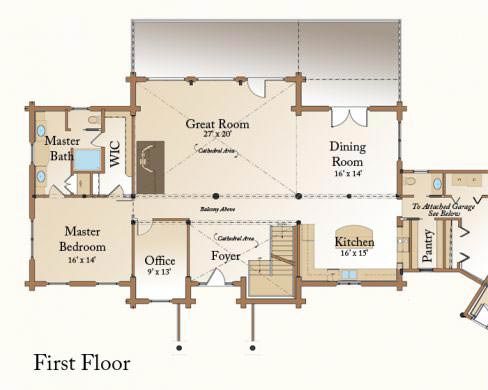 Passing back to the front of the house, the formal foyer is separated from the great room by an overhead balcony with decorative pine-forest themed metal banisters. After ascending the stairs, two bedrooms are present on the right, each almost as large as the master bedroom and each with its own walk-in closet. Passing over the balcony, there is a loft space as well as an enclosed play area that can also work as an office or movie room. There is another large walk-in closet serving this floor, next to a bathroom with ample space for all the amenities you wish to include.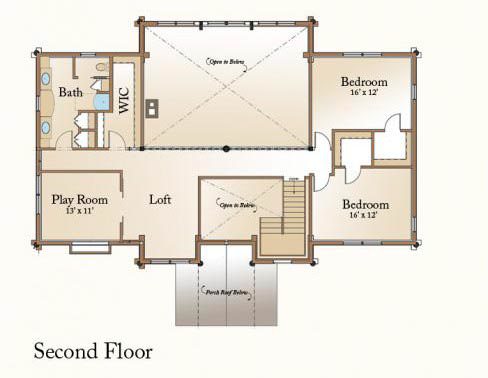 ​If you would like to learn more about this log home, or how you can begin the design process to create a log home of your own call Real Log Homes today or fill out the form below for more information.
.
Credits: This REAL™ Log Home was designed by MossCreek