In contrast with the popular image of a log cabin, modern log homes can utilize contemporary design and be quite large. The nature of the log home is determined by the desires of the homeowner. Nevertheless, many buyers appreciate the classic look of a log home with traditional design elements. This Real Log Home in the Finger Lakes region of New York is an average-sized home that packs a great many features for its size.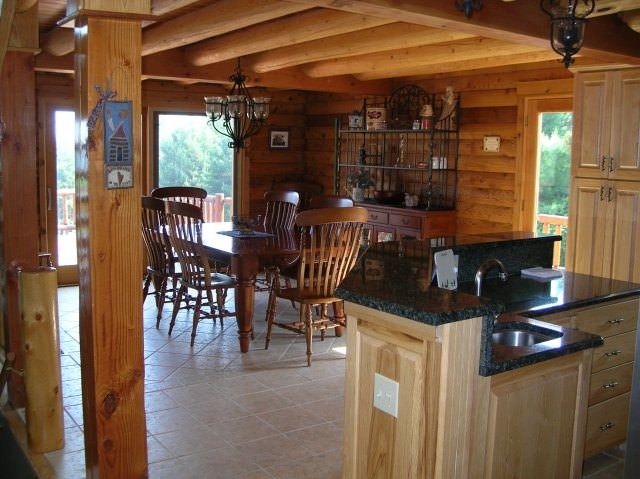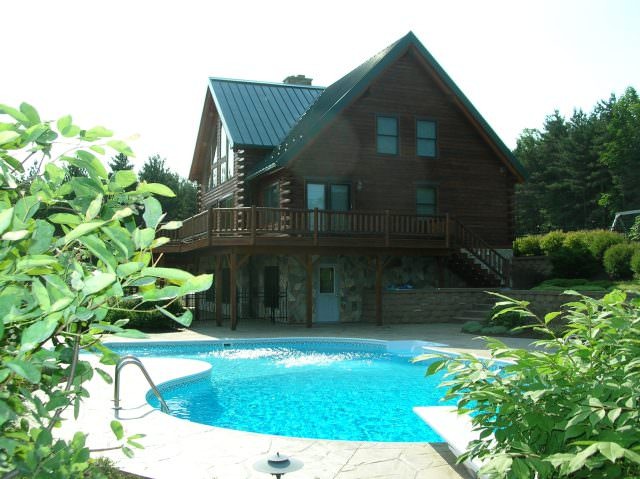 The Wayland house sits at the top of a hill, so it strikes an imposing figure to approaching guests. The cross-gable roof, bank of windows for the great room, and stone-trimmed basement immediately stand out. Alongside the home, however, you see the steeply-pitched saltbox-style roof that suggests a connection with the agricultural nature of the region while helping to shed heavy winter snowfall.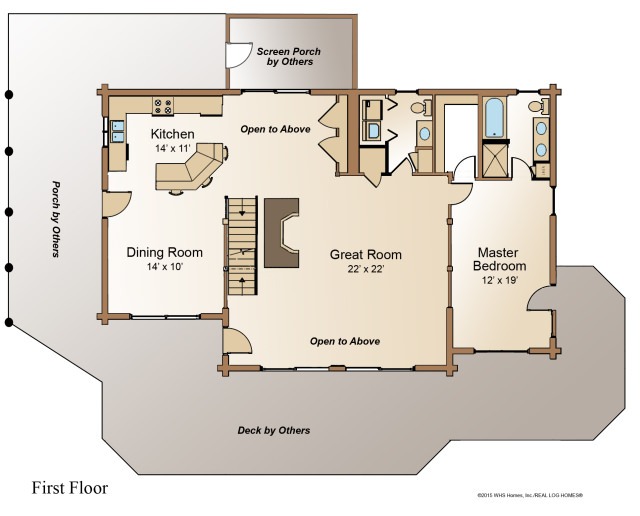 Primary access to the home is through either a side screen porch with adjacent closet or via a door between the kitchen and dining room. Despite its modest 154 square foot size, the kitchen packs in great features like an island with separate prep sink. There's even an "appliance garage" to keep coffee makers and stand mixers tucked away yet instantly ready for action. The similarly-sized dining room has a chandelier to match the hanging kitchen lights as well as a sideboard and hutch. Sliding doors provide access to the deck which surrounds three sides of the house.
The great room layout has features which make it both grand and comfortable. The full cathedral wall of windows allows for an airy feeling and great views across the farmlands towards the lakes. Meanwhile, the fireplace is situated under an upstairs loft space, which creates a very cozy environment for a nighttime fire.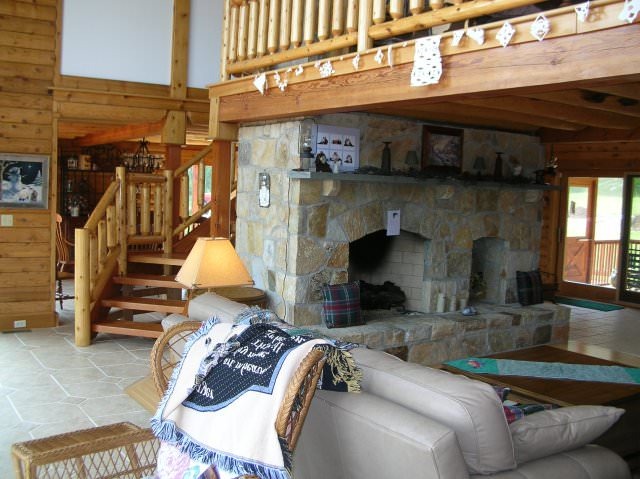 Off the other end of the great room lies the master suite. While the 228 square foot bedroom is moderately sized, it offers more than enough room for a king-sized bed and furniture. The suite also features a walk-in closet and bathroom with double vanity and separate shower and soaker tub. The bedroom also has deck access, with nearby stairs leading to the pool.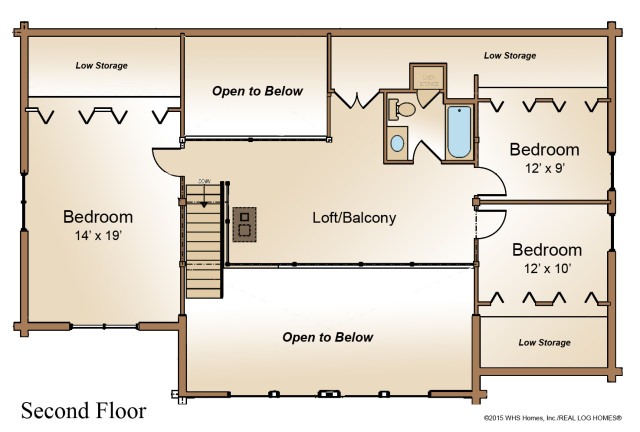 The stairs leading to the loft have a J shape to them that adds some visual interest while creating a corridor between the great room and dining room. The loft above is used as an office, with the upstairs also featuring a full bath and one large and two small guest bedrooms. In the walkout basement, a wood stove provides heat to a space hosting a game room, full bar, and convenient access to the pool and garden.
We think you'll agree that, despite its modest size, the Wayland has all the features of a large log home. If you are interested in this plan, or a log home specially designed just for you, please call Real Log Homes today or fill out the form below for more information.