At Real Log Homes, we pride ourselves on having a complete team that provides services from design to construction and beyond. Sometimes, however, homeowners wish to work with local architects or designers. Also, sometimes homeowners will add embellishments from other providers. We are happy to work on these projects as well, and this is a story of one such log home.
This log home was designed and built by Meeker Log Homes, a Real Log Home's Independent Representative. The home is situated on top of a hill in the Sierra Nevada, which made for a challenging build site. Care was taken to protect the oak trees surrounding the site, and this house was built to take in the wonderful views.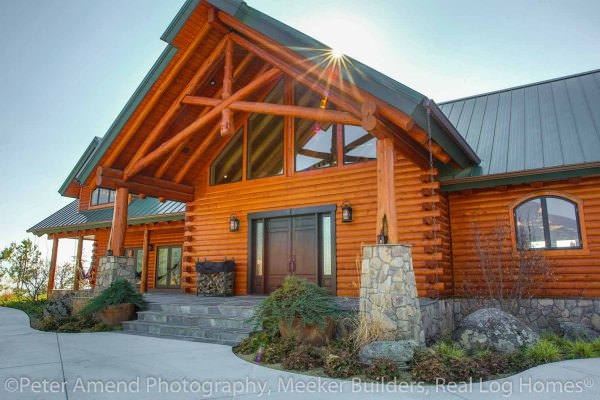 The massive front entry with its scissor-truss design and trapezoidal footings suggests an oversized Craftsman-style log home. The exterior logs are 8-inch V-Groove style (also known as "D" logs), but many different types of wood are used throughout the home. The ceiling is lodge pole pine tongue-in-groove, while alder is used for the kitchen cabinets. Out back, a massive deck overlooking the mountains is constructed with ipe, a resilient wood that also pays homage to the owner's Brazilian heritage.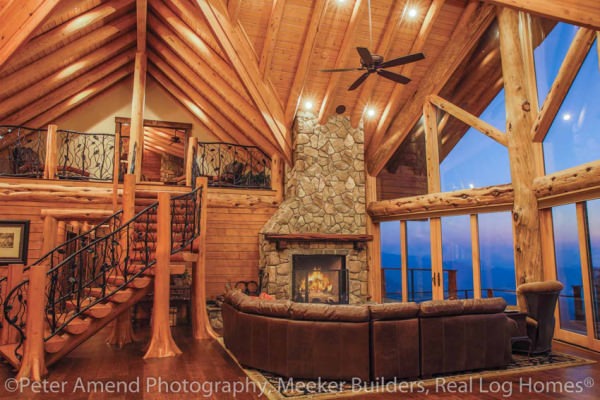 The great room space also finds two features provided by other companies. The massive logs framing the prow window in the great room are California redwood, provided by a local company. The half-log staircase uses wood from Minnesota and ironworking from a nearby welding company. Using this staircase takes us to the master suite, which occupies the entire upper floor of the home. Both the bedroom and bathroom naturally command impressive views.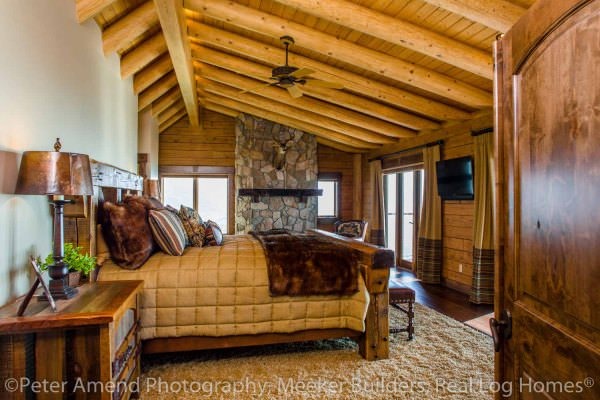 The guest bedrooms are located on the main floor, separated from the great room by the home's only hallway. Each of these bedrooms has its own private bathroom. Back on the other side of the home, we find an interesting feature in the kitchen. While the range hood looks like copper, it is actually a wooden piece designed to look like the metal.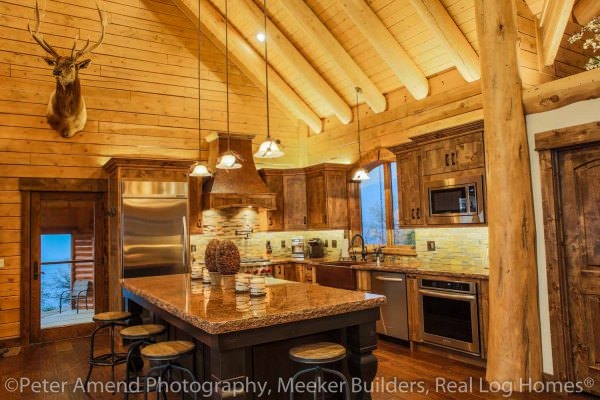 We hope this mountain home has shown you how we enjoy making a quality home, whether we design it in-house or collaborate with other designers and architects. If you're looking to design a log home or are even already consulting with an architect or designer, please call Real Log Homes today or fill out the form below for more information!