When prospective homebuyers look for a new home, they usually have a primary purpose in mind for the dwelling. Some are looking for a main residence, for example, while others are looking for a vacation retreat. Often, homebuyers want something that will suit them now as well as in their future retirement. This home, designed for a site in Vermont, had to serve all these purposes – to currently function as a retreat while also being suitable as a retirement home. Let's look at what makes this Real Log Home tick.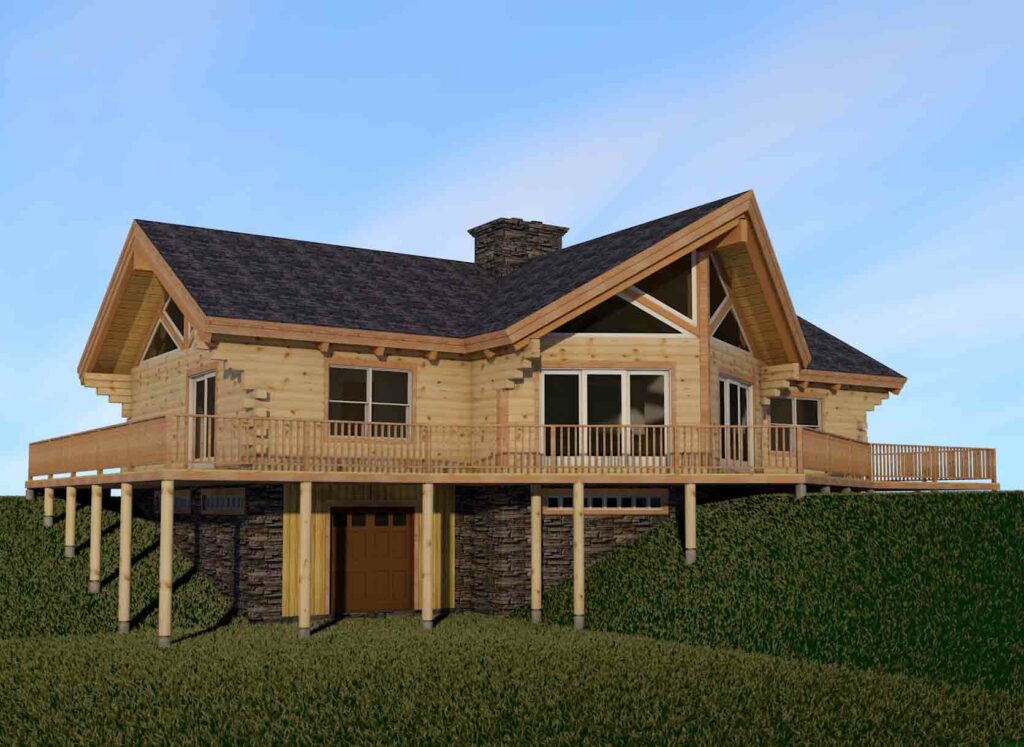 From the exterior rendering, you notice that this home will be sited on a slope. In fact, it will be situated on top of a hill that affords grand views of both the Vermont and New Hampshire landscape. This exposed location at a windy site means that protection from the elements is essential. The weather, however, is no match for this log home's robust construction. With its SIP roof, triple-glazed windows, and tight-fitting logs, this home is a comfortable escape from a blustery winter storm or sweltering summer day.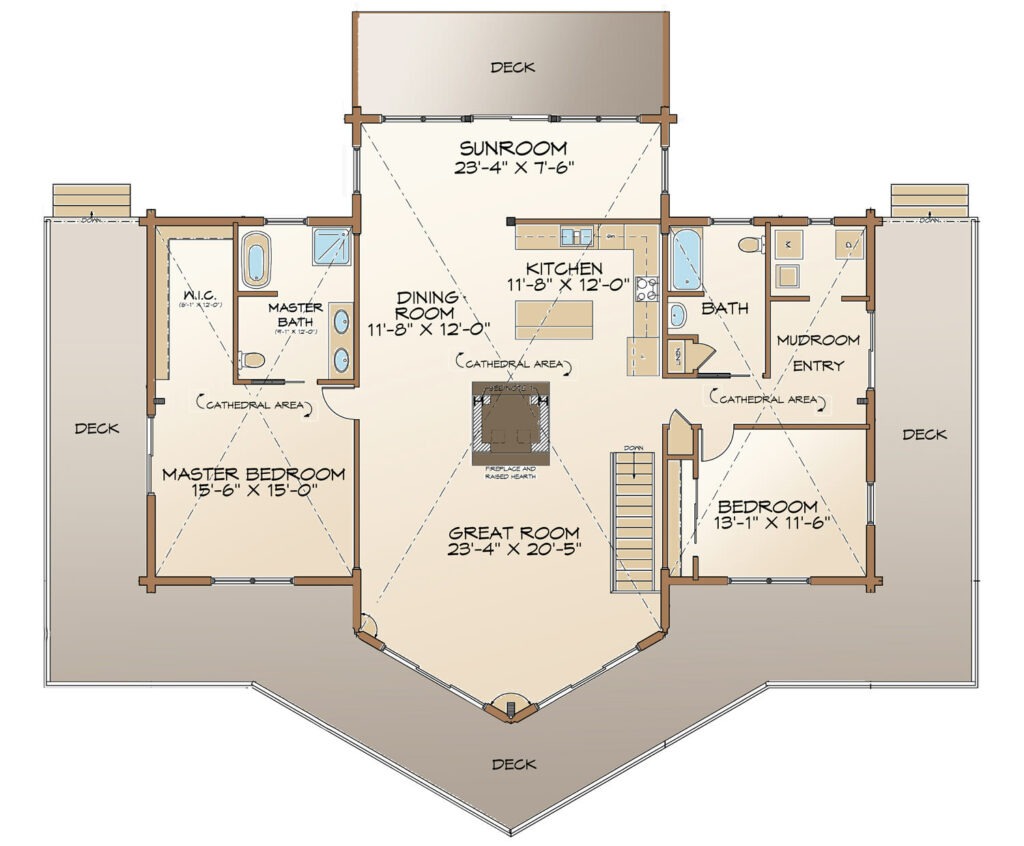 Every room in this home has cathedral ceilings!
The home is constructed in a cross-gable design, which means that all the rooms get cathedral ceilings. As is common in many cross-gable homes, the central area is the public space, while one of the side gables forms the master suite. The remaining side gable houses a mudroom off the informal entry to the home, as well as a laundry room, full bathroom with linen closet, and guest bedroom.

Three-quarters of the exterior is treated with a wrap-around deck.
In the central section is a large, 476 square-foot great room area. While this room of course features cathedral ceilings and a large bank of windows to take in the views, the standout feature is a double-sided fireplace located in the center of the home. This impressive stone structure will allow for fires simultaneously in the great room and the kitchen/dining space on the other side.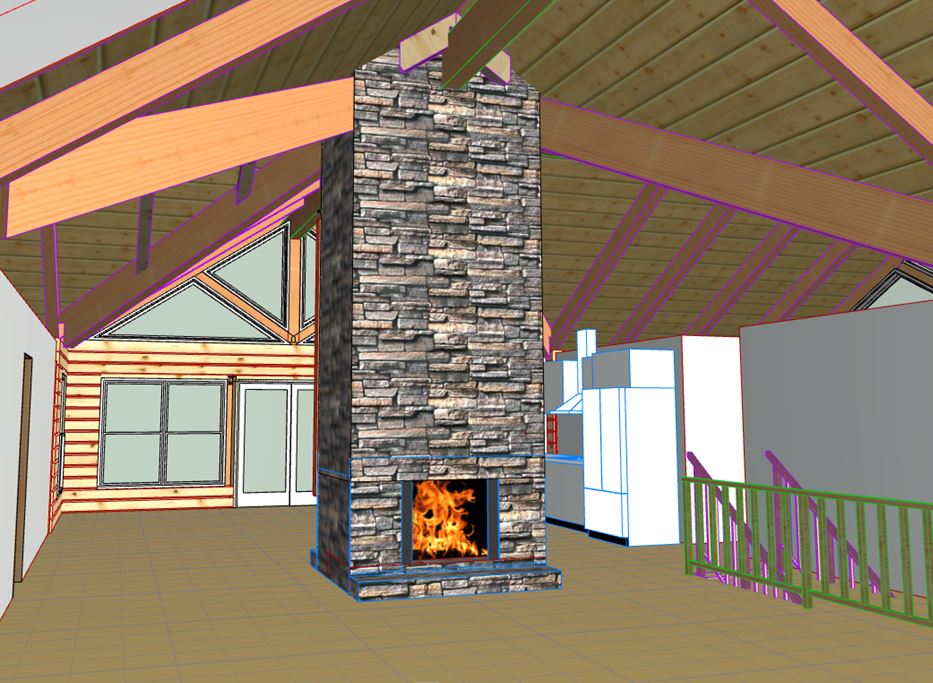 The double-sided fireplace will be the show-stopping feature of the home.
The master suite wing has all the amenities one expects in a modern home, with a large bedroom area, walk-in closet, and master bath with a separate shower and soaker tub. The home also features a wraparound deck that circles the entire home, except for the bathrooms. The basement of the home is exposed on the downslope side, clad in stone, and board and batten siding. A utility garage door provides access to the basement from the outside.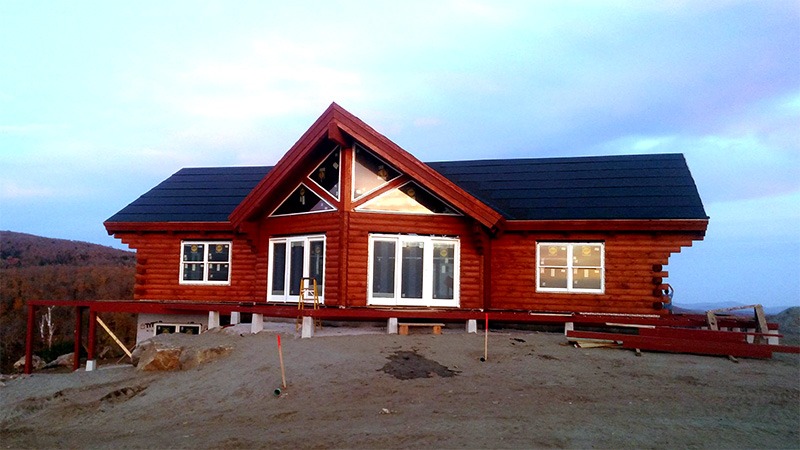 We hope you've liked this look at this log home. If this home interests you or gives you ideas for a log home of your own, please call Real Log Homes today or fill out the form below for more information!