Many of us dream of building our own home, and log homes especially tend to attract these kinds of do-it-yourselfers. Naturally, people have many questions about all the steps that go into building a log home, especially if they have not built an entire home before from start to finish. So this week, we thought we would feature a floor plan that also can show all the steps that go into building a Real Log Home.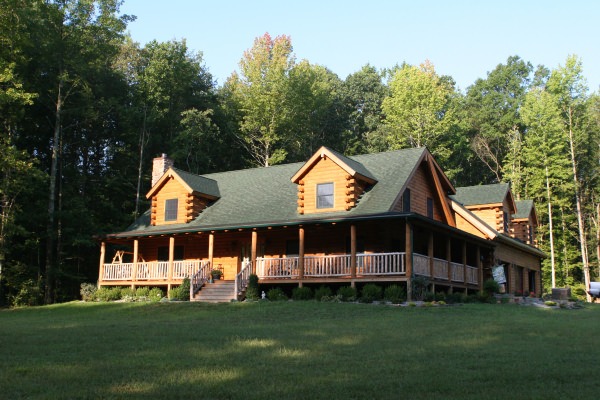 The New Castle was built in 2009 for the Crellin Family. While McMullen Construction was the builder of the home, the Crellin family was intimately involved in the construction of their home. From pouring the foundation to the finishing stain, the Crellins detailed the entire construction project in this photo album. With 569 captioned photographs, we encourage you to take a look and see how a log home is built and finished.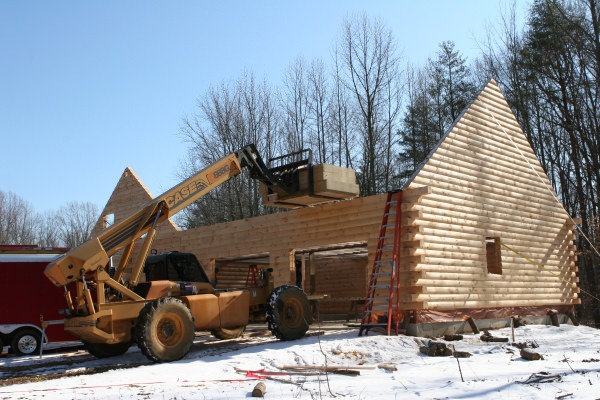 The finished home is, of course, a work of beauty befitting the love that went into its construction. The first floor of the home consists of a garage and living areas, each around 1200 square feet. While this large garage is helpful on this farm property, it is at a right angle to the home, so it is not conspicuous. Approaching the home along the driveway, you instead see the outline of a classic two-dormer farmhouse.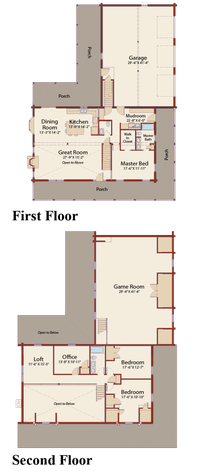 The great room has a woodstove built into a fieldstone chimney, providing useful heat as well as visual appeal. For more hands-off heating, the home has a geothermal heating system fed by six 100-foot geothermal wells. Of course, you can find many pictures of this installation in the construction photo album. In addition to the great room, kitchen and dining room, the first floor also houses a master suite with walk-in closet and master bathroom. A mudroom with laundry is conveniently located between the garage and home.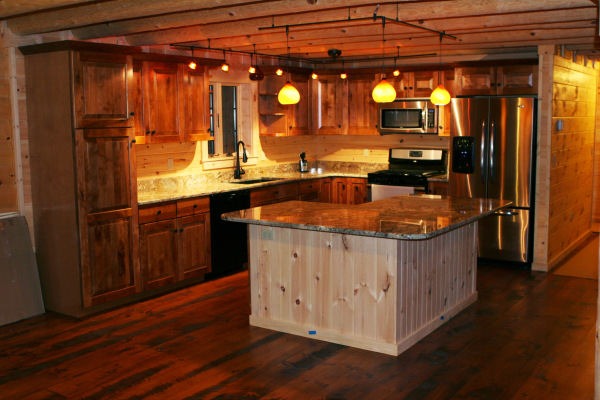 Upstairs are a pair of spacious bedrooms for the children. There is also a second full bath, as well as a sizable office and loft space overlooking the great room. But the biggest feature of the upper floor is the 1200-foot game room occupying the entire space above the garage. While it has some closets for storage, the bulk of the room is an open space. This great space allows for a ping pong table, pool table, workout bench, and entertainment space to all coexist with space to spare.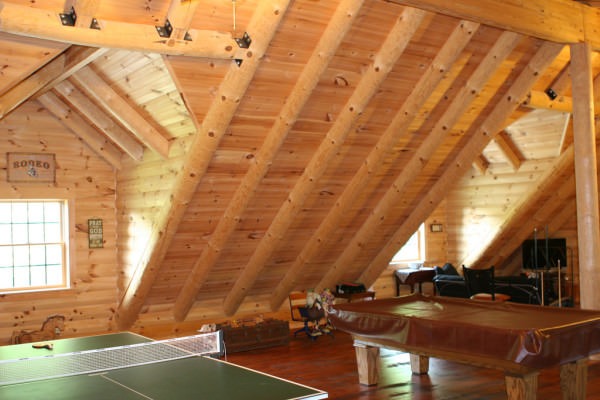 We hope you've liked this look at the New Castle plan as well as the construction photos. If you're interested in a plan like the New Castle or any log home, please contact Real Log Homes today.